Why is there tea ceremony during wedding? 为什么会有敬茶仪式?(4mins Wedding Planner Tips For your Dream Wedding!)
敬茶仪式其实是用来答谢父母和长辈们的养育之恩。
同时,父母与长辈们也会献上对新人的祝福。
Tea ceremony is to show appreciation towards one's parents and elders for the love and care given to him/her during his/her upbringing.
At the same time, they will also provide their well wishes for the couple.
这个仪式也称为"改口"仪式。
因为在这个时候,你会用非常正式的"称呼"来称呼你另一半的长辈和父母。
以前称呼为"UNCLE" "爸爸"
以前称呼为"AUNTIE" "妈妈"
所以被称为"改口"仪式。
这样就代表成为一家人了!

Things to prepare for the ceremony敬茶仪式需要准备什么?
•茶具 Tea Set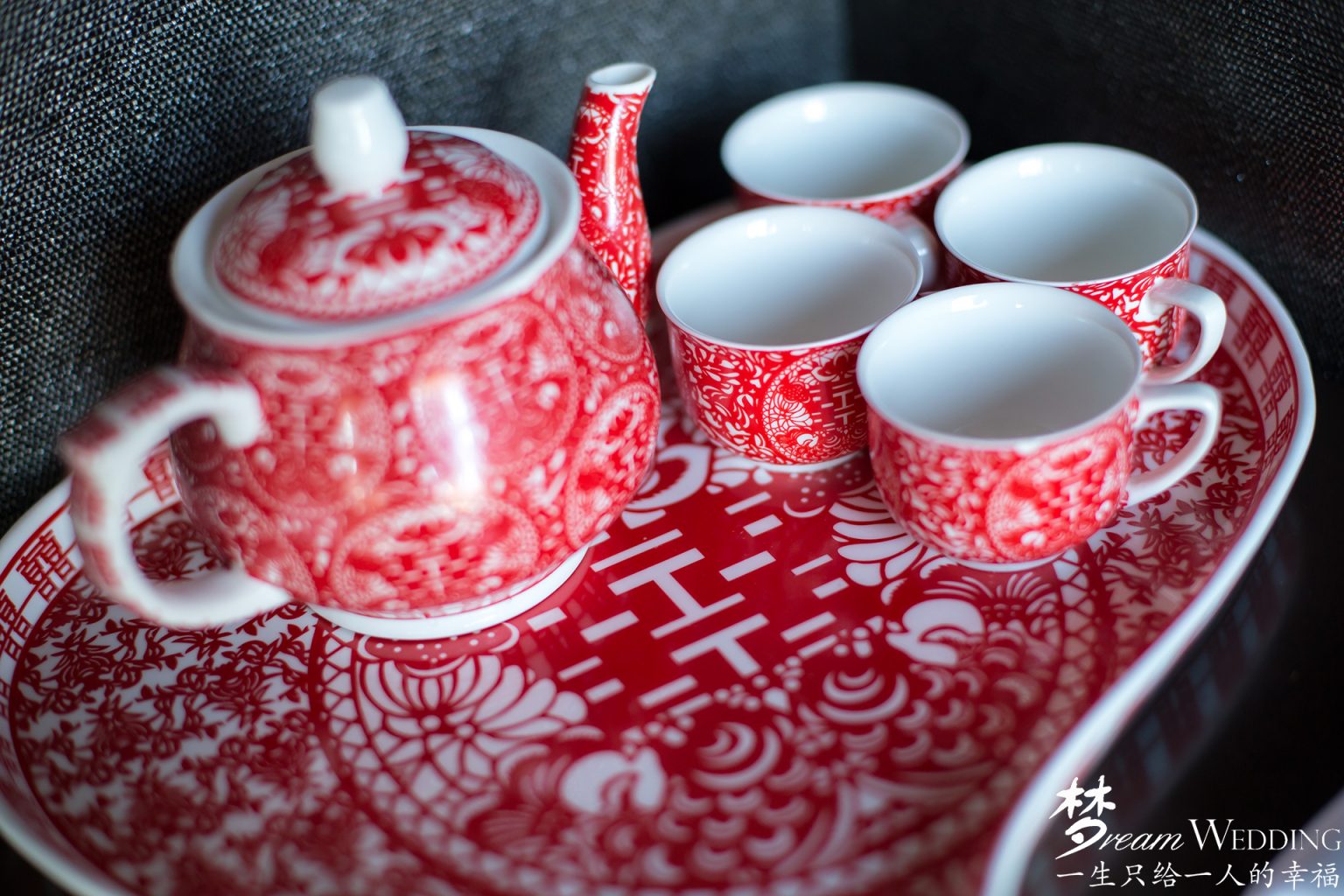 传统的婚庆用品店基本上都会卖一整套的"茶具",会包括1个茶壶和2~4个茶杯。
**我本身推荐4个茶杯!因为如果家庭成员比较多,最好是提前多准备几个,以防万一!
因为敬茶仪式只是短短的30分钟到1个小时,其实没有办法一直重复性的使用那2~4个茶杯,所以能准备越多越好。

A tea set will usually be sold in a full set at Traditional Chinese wedding shop which consist of a teapot and 2~4 tea cups.
I personally recommend you to prepare 4 teacups or more if it is a big family. As the ceremony is just a short period of time (30mins to 1hr), it may be difficult to use the teacups repeatedly, hence it will be better to prepare more in advance for easy operations.

•茶 Tea

可以用一般上传统的中国茶叶,比如说普洱,铁观音,香片等。
**我建议先泡一大壶,然后时间到的时候再把它倒入小茶壶里。这样就不会因为茶不够而紧张!

Traditional Chinese tea such as Pu'er, Tie Guan Yin and Xiang Pian can be used for the ceremony. It will be better to prepare a big jug of tea beforehand and only pour it into the smaller teapot during the ceremony so that there's enough tea for the ceremony to proceed smoothly. You will also not need to brew the tea within the small teapot.

•莲子与红枣 Lotus seed & Red date

每个杯子里放一对莲子跟一对红枣,这象征鸿运当头,早生贵子!
**莲子千万不能切开,一定要整颗的。因为切开代表分开。莲子一定要带皮,因为去掉皮的莲子是白色的,跟结婚的"红事"会相对。所以带皮的莲子是最好的!

A pair of lotus seed and a pair of red date has to be placed inside each cup, which symbolized fortune and blessed birth.
The lotus seed must be a whole seed, DO NOT cut open as cutting open symbolise splitting apart. It should also come with the skin as the peeled lotus seed will be white in color and thus it is not auspicious for your joyous wedding occasion.

Ceremony procedure敬茶顺序

一定是由新郎先敬茶才到新娘,先敬父亲才到母亲。
如果家族里有祖父母,可以先敬祖父母。或者先敬父母再敬祖父母也是没问题的。
敬完祖父母和父母后,便是其他长辈。顺序通常是以男方为主。
例如,如果在新郎家,会先敬新郎父亲那方的亲戚再敬新郎母亲那方的亲戚。各方亲戚敬茶时,也依照男方为主的顺序。

The groom will offer the tea before the bride and they will offer to the father then to the mother. If the grandparents are around in the household, couples can choose to offer tea to them first.
However, it is also ok to offer to the parents first then the grandparents.
After offering to both grandparents and parents, couples can then move on to the other elders in the family. The sequence is usually male dominated. For example, at the groom's place, they will first offer tea to the father's family before the mother's family.
When offering to the father's family, it also goes by the sequence of male domination.

Point to take note注意事项

在奉茶时,一定要用双手,不能单手接过或送往!因为这是非常不礼貌的。

When offering tea, it is a must to use both hands to offer and to receive. As it is very rude to offer or receive the tea with one hand.

Click here for more Wedding Planning Tips for your Dream Wedding.