House Rule for visiting Dream Wedding
Dream Wedding & the team believe strongly in Love thus we will only serve 1 partner when the couple came to sign together!
See here for our couple whom made the commitment for this lifelong Promises!

"一生只给一人的幸福". While translations are never able to fully capture the original meaning, this phrase loosely translates to only giving one person happiness in (his) lifetime.
Besides that, over the years as wedding planner, we noticed that when groom are involved in the wedding planning process, the bride will be appreciated more and this infact creates a stronger bond into the marriage!
We have 3 criteria and the main one will be as following:
The Rules:
1) The Groom is only allowed to bring one Bride to our boutique in his lifetime.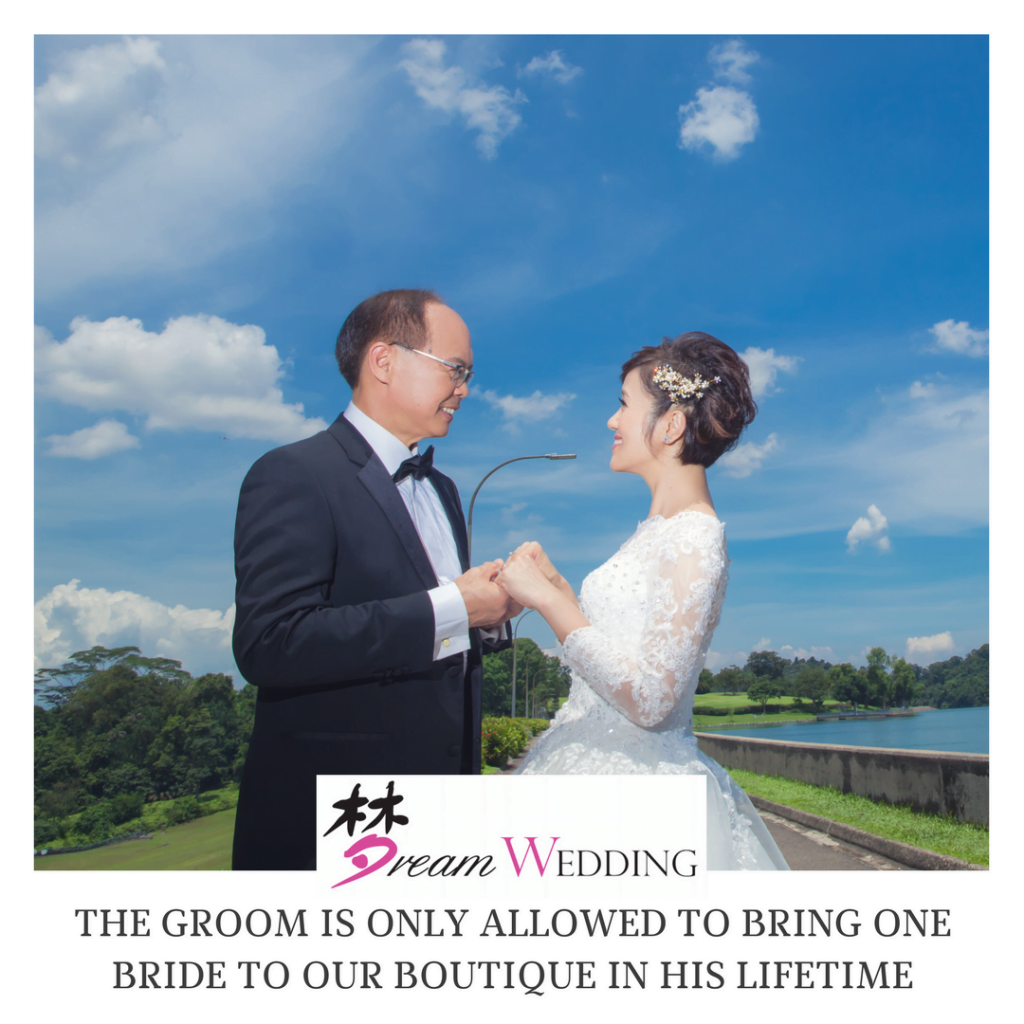 "Till death do us part"- this is the commitment that Dream Wedding wishes to reaffirm in serving only one bride per groom. Not to worry, your marriage history is irrelevant as our only criteria is that the grooms have not registered another woman's name under his when signing with our boutique.
2) The first appointment with our boutique must be made by the Groom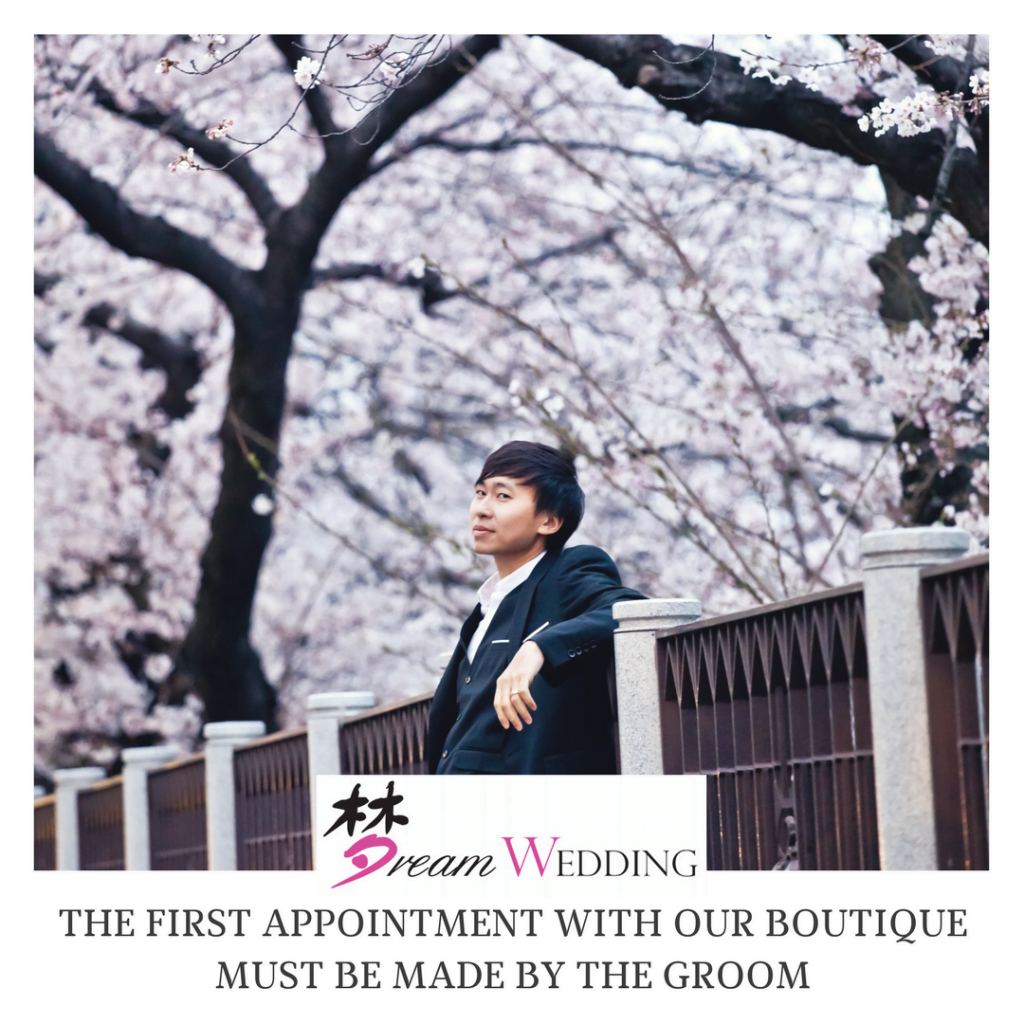 Before you cry "sexist", please understand that Dream Wedding only wishes for our grooms to take an active interest in the wedding preparation process and help with the back-end work (such as making an appointment) so that our brides can relax and enjoy the most exciting part of wedding preparation- choosing a gown! Rest assured, only the FIRST appointment must be made by the groom. Subsequent appointments may be made by the brides!
3) Couples will only be served if they come in as a pair for their first appointment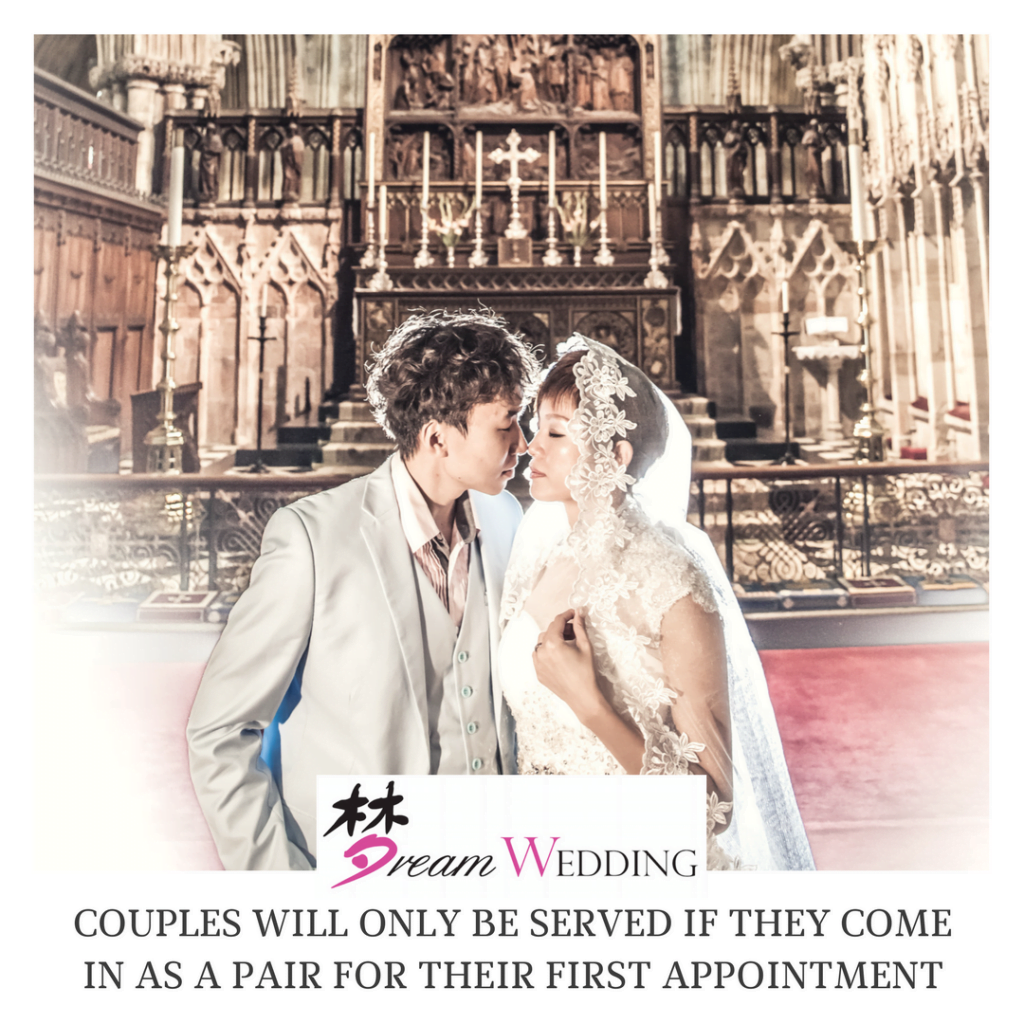 We know, it can be difficult to find a common time to drop by; but just as marriage is a union between two people, Dream Wedding believes that wedding preparation should also be a task for two. Come down together for a consultation and we will be better positioned to discuss both your needs!
While the layman may find our rules to be at best odd and at worst archaic, we do have our own reasons for insisting on these rules. At the top of our list is our own observations of couples in our boutique where we found that grooms tend to disengage more frequently than brides. Totally understandable, since gown selection is akin to shopping, which has always been a woman's arena. However, we also noticed that engaged grooms are crucial in amplifying enjoyment during this sometimes tedious process.
Hence, we hope to encourage our grooms to take on the mantle and be more proactive so that we can all have a smooth sailing and joyful wedding preparation experience!
The main ideal behind all this is to let the groom focus more on the brides in this once in a lifetime event.
*There are possibility for exceptions on case to case basis if it is still inline with our Gentlemen Code.
Contact Us Here for your Dream Wedding Journey!
Some photos of our Lovely Couple Whom Made an commitment to each others in our Bridal!
Related Wedding Services