Sophia Wedding Collection Bridal (Singapore) had closed
Sophia Wedding Collection Singapore had seems to be closed. One of the team member had just confirmed that it had closed when they visited the shop at 7pm on 10 Oct 2015. (Their operating timing on saturday is till 9pm)
They visited 50 Amoy Street outlet and the shop is closed with no crew in it and a crowd of existing couples from the Bridal gathered outside the shop hoping to find some answer. Phone call, email and Facebook messages was not answered too.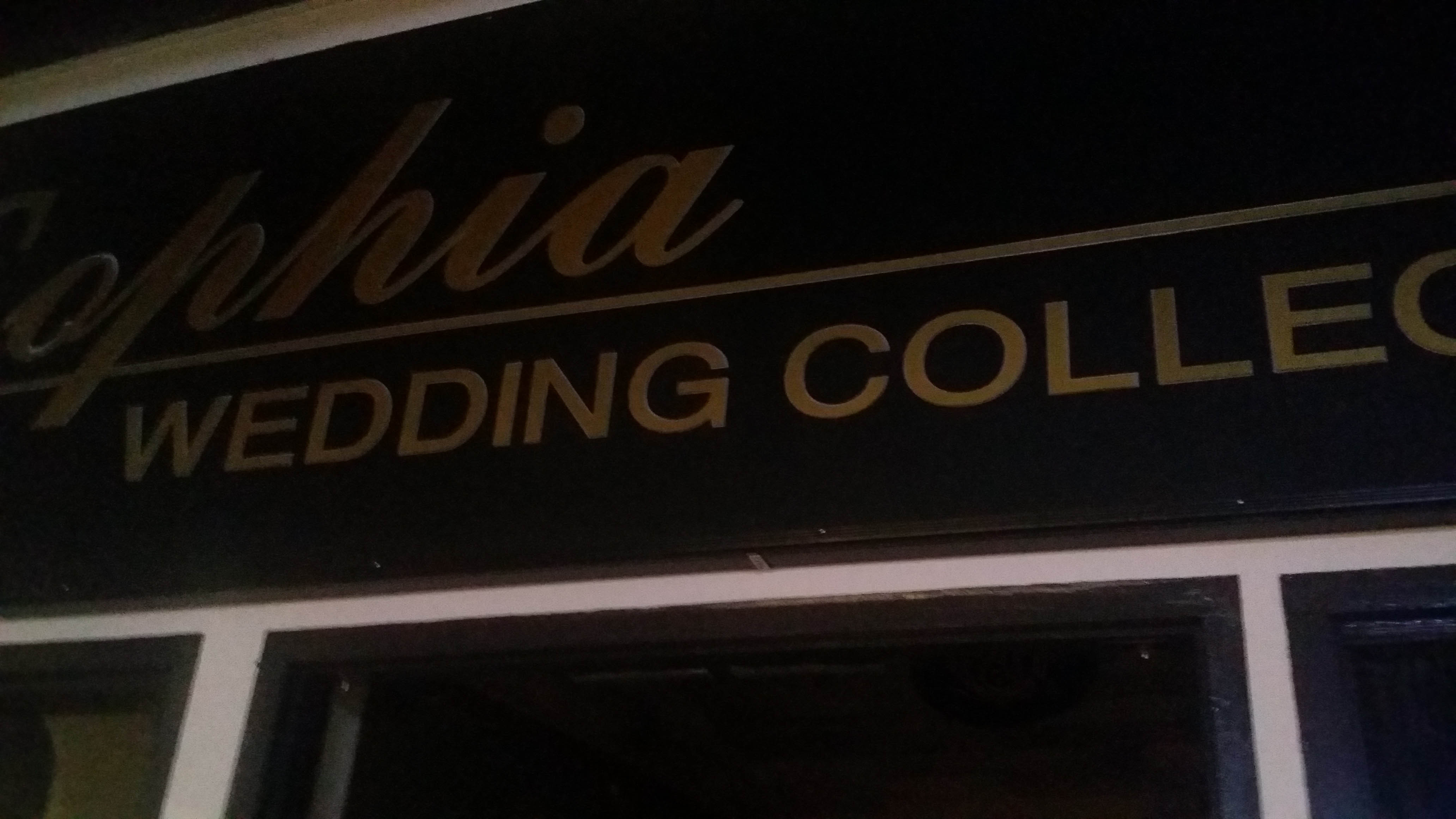 Sophia Wedding Bridal at 50 Amoy Street. Picture taken at 7pm.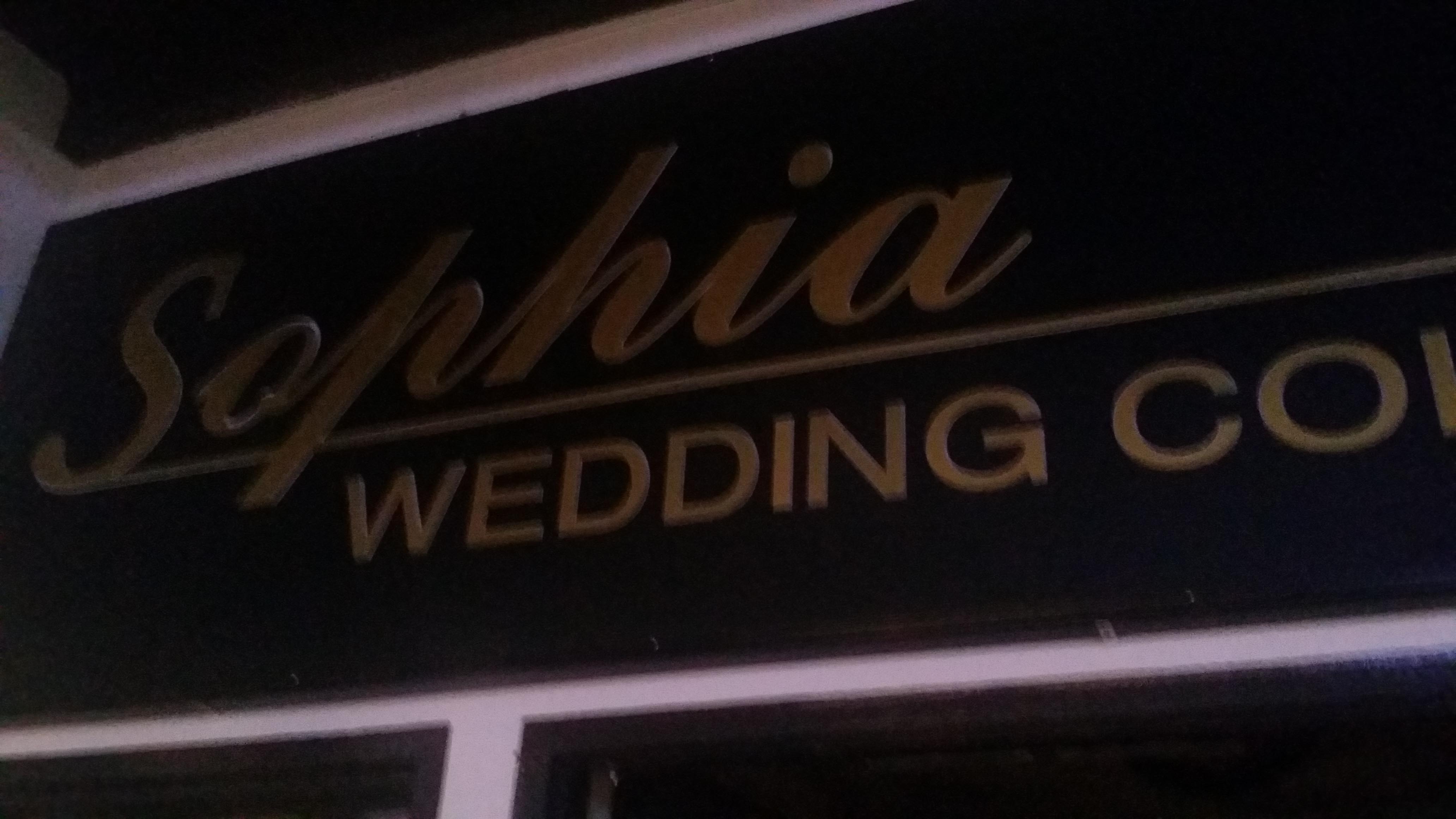 All light are closed and there are no one to greet the crowds that gathered outside the door.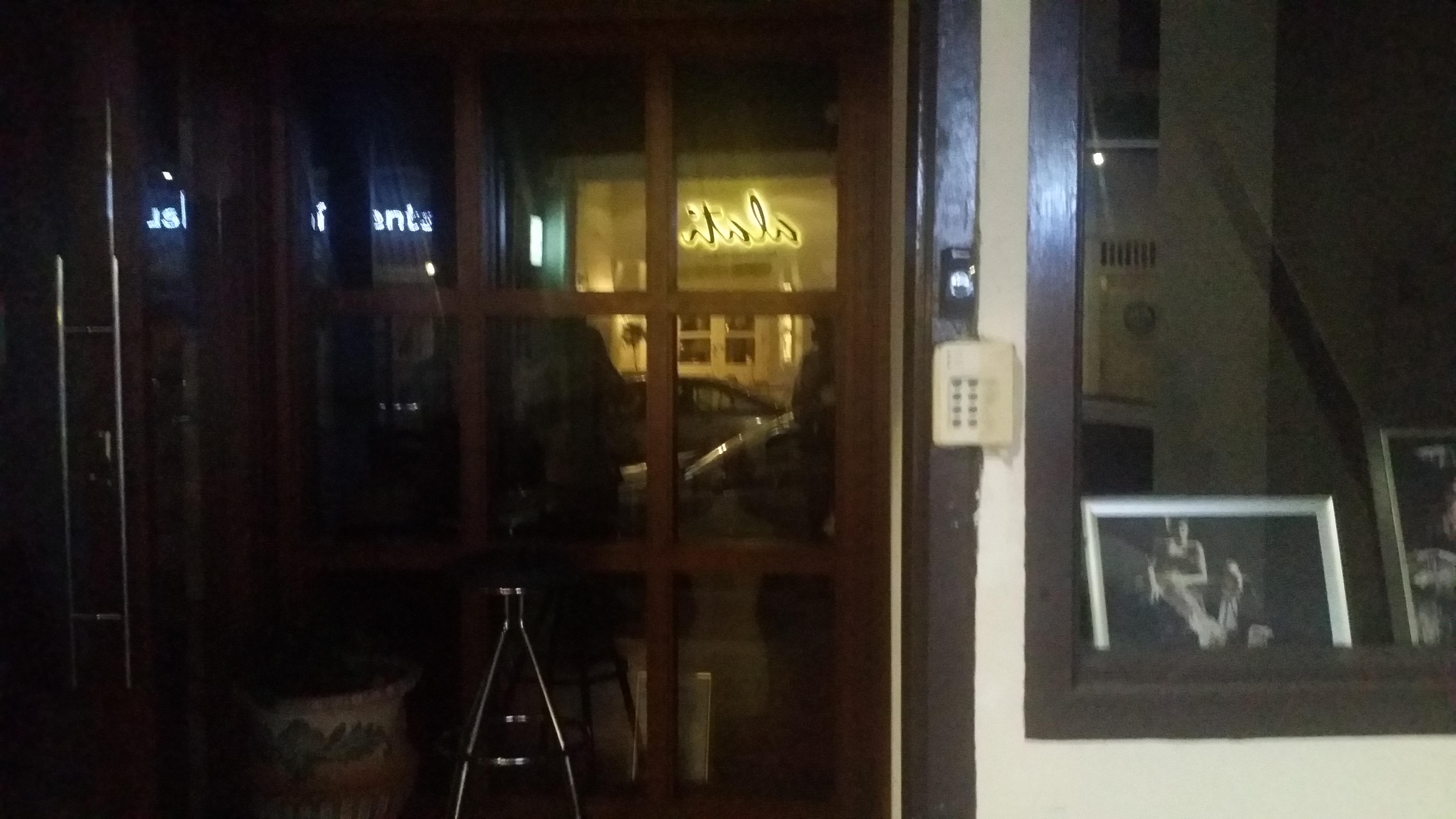 The shop look empty even thou it is still considered to be operating timing at 7pm. (They closed at 9pm)
We understand that there are some couples whom are anxiously looking for a bridal that can help them with their wedding next week, or the week after.
Dream Wedding Bridal will like to offer our assistance to you to help you get your actual day wedding preparation done.
As we do not have any affliction and link with Sophia Wedding, We are sorry that we are unable to absorb your invoices, but we are able to provide fast onsite alterations, gown selections and gown collections from our current collections of 800 pcs of gown. We believe these are some critical issues to your wedding day preparation.
We are offering you at $888 Nett for 1 White Gown, 1 Evening Gown and 1 Suit for your wedding day. (Any Sophia Wedding Couple getting married by 31 Dec can come and find us with this Wedding Gown rental package)
We hope this auspicious $888 amount can bring good luck to you and your upcoming wedding (Furthermore, its really to cover our cost to make sure you are able to tide over this ordeal instead of charging you at our usual rate of $1580 Nett)
(Please bring along your Sophia Invoice to prevent anyone from misusing this package)
We had just set up a team to give support for your wedding if you need so. You can call us at 66048013 especially for couple getting married over the next few days. 


Please spread to other Sophia Wedding Bridal couple and we hope we can provide you with some assistance towards your special day.
Please note that Dream Wedding Bridal have no link to Sophia Wedding at all and please do not vent any anger on us as we are really here to help.
Update on 10 Oct 2015 2230 Hrs:
A search with ACRA or biz file for Sophia Wedding company status. It is still on live status and their licence is not yet terminated.
Update on 11 Oct at 0010 Hrs:

This is a post on Sophia Wedding Gown Official Facebook page by one of the affected couple that they had confirmed with a Make Up Artist on the closure.
However, we will still be waiting for a official statement and ACRA closure of the business.
In the meanwhile, we advice all affected couple to contact any staff they know and see if there are anyway they can make arrangement for some compensation or confirmation of the news.
Mid Night of 11 Oct
Concerned couple are still calling in at about 2am hoping to find some answer and also to see if there are any way their wedding over the next few weeks can still proceed smoothly. Our team share with couple on our capability such as 800 over gown to choose from, onsite alterations and services we can do. We hope they will feel more relived and sleep better in the night.
Update at 9am: Media called to our team through our newly setup helpline
Mediacorp news team caught hold of the Sophia Wedding news and will want to find out more of the details with us. Arrangement is made for them to visit us at 11am and understand more of the situations.
At 11am. news team visited our Boutique bridal with some affected couple coming to our bridal.
An interview is done with our Executive Wedding Planner, Ms Ivy Chin, and they will proceed to find out more facts from any leads that are around.
They are still looking to interview affected couple, if any couple are willing to be interviewed, do call us and we can arrange for the news team to visit your place.
Package is formulated to better assist couple in their wedding preparations
We had formulated 2 critical package which are minimum criteria through the numerous call.
1 White Wedding Gown, 1 Evening Gown and 1 Groom Suit (All collections except for Brand New MTM collections)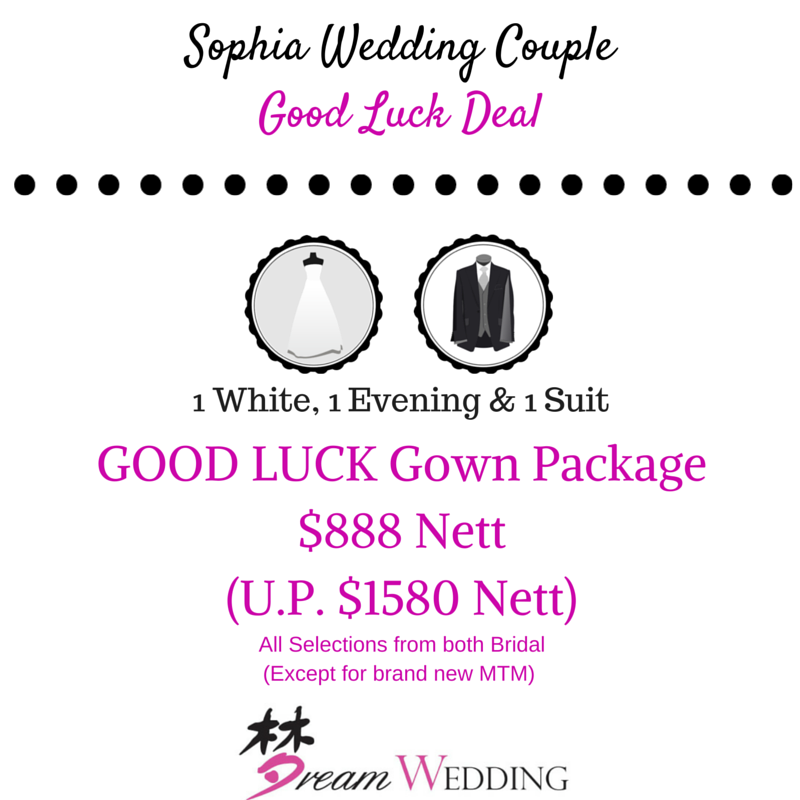 Floral Package: $388 (U.P. $580)

 1 Bridal Bouquet, 6 Corsages, Bridal Car Decorations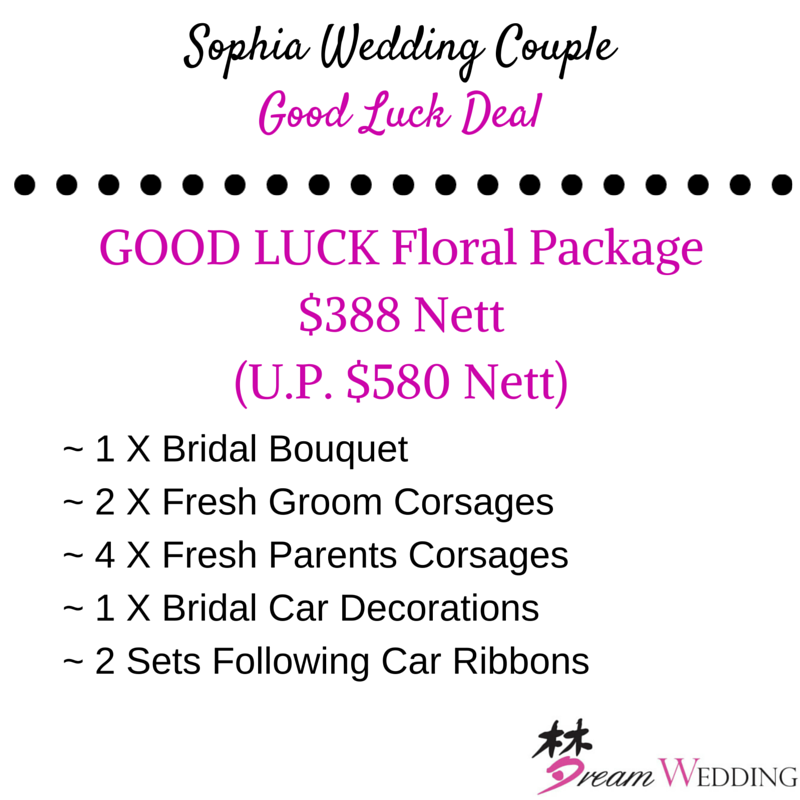 Update on 11 Oct at 1830 Hrs
Mediacorp News broadcast and confirmed the news that Sophia Wedding Collections had closed shop in Straits Time online and Channel 8 6.30pm News.
Couple that had previously signed with this bridal, will have to source for other alternative. To better assist couple who were just informed of this news, we will still open our emergency hotline 66048013 to assist couple on their wedding enquiry.
Please do share with couple whom are having wedding over this coming weeks as we will want to assist them as soon as possible.
[one_half]
Straits Time Online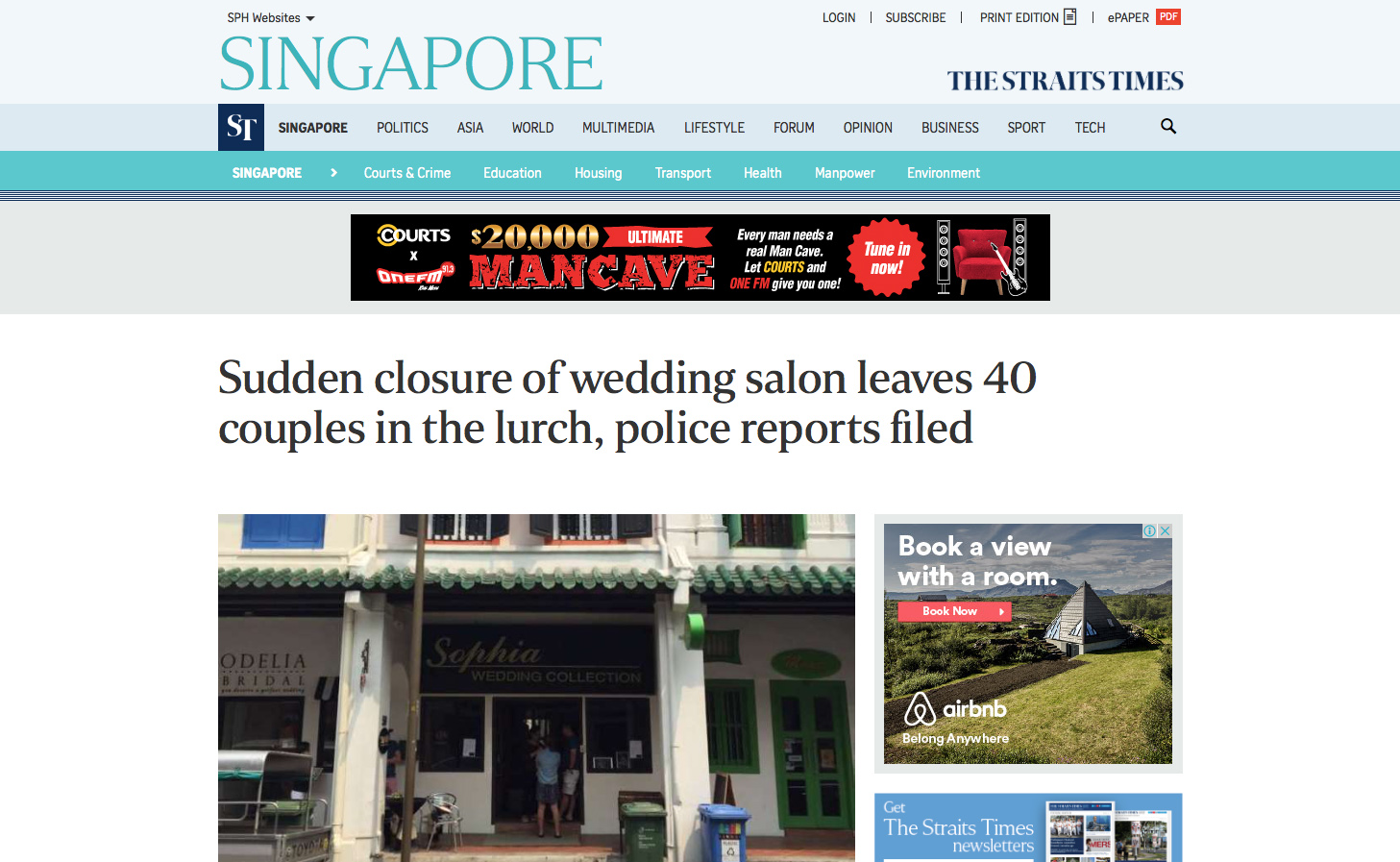 [/one_half]
[one_half_last]
Channel 8 Online & News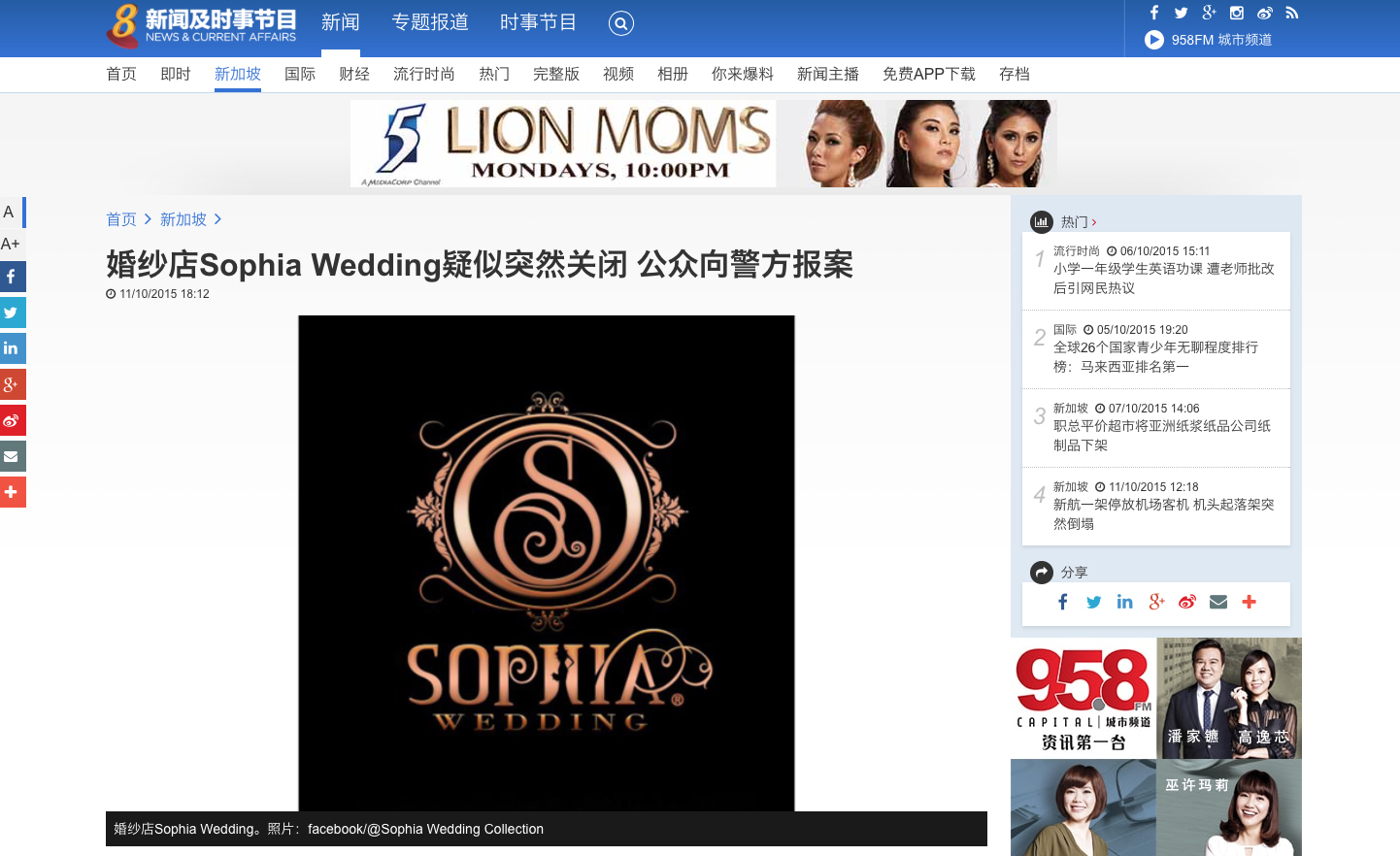 [/one_half_last]
Update on 12 Oct at 1830 Hrs
A total of 120 Couple had reached us via multiple channel, Email, Facebook Page, Our Company Phone 66048013.
We will be expanding our Company tonight till 10pm to serve Sophia Couple whose wedding is over this weekend.
Update on 13 Oct at 1730 Hrs
Today, we mark a total of 140 couples whom called us with regards to the Sophia case. There is a drop in the increment of number for affected couple.
As most of the arrangement for couple whom are affected, they will be visiting us over this 2 weeks.
Our Current Sophia Good Luck package will be extended to all affected couple instead of couple getting married within this year only.
This special extended deal will end on 31 Oct 2015 as most affected couple will had found the alternative options by then.
All price will be resumed to normal rate from 1st Nov 2015 onwards.
Update on 13 Oct at 2000 Hrs
There are an obvious removal of post and comment in Sophia Wedding Collection Facebook Page. See Picture Below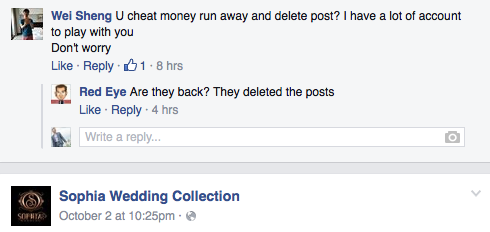 We hope they will spend some time to explain the situation instead of deleting the post. As I think this is going to stay in memory for many years to come.
P.s.To anyone reading it, This blog post is not going to go away and will update once any news came up.
Can The current Whatsapp Group Admin Let us know how any affected couple can be added to your group? We will want to inform them of your group so they can seek some support from your advice too. Please do email us below and we will spread to the rest. Thank you
Update on 24 Oct at 1700 Hrs
We are pleased that we had helped most of the Sophia Couple whom had approached us and we will be stopping our dedicated helpline for Sophia Couple from today onward but you can still find us via email or telephone at 66048013 (Office Hour).
In the meanwhile, the 2 package offered will be valid for booking till 31st Oct 2015 and all rates will resume back to our standard wedding gown rental package.
We apologise that we will be unable to extend the offer beyond this month end.
We will still keep you updated here in this live blog.
Do Share with us more news at this Facebook link so more couple can be made aware of the new informations
Please contact us here if there are any enquiries you may have for Sophia Wedding Affected Couple
[contact-form-7 id="8229″ title="Contact form 1_ Sophia Wedding Bridal post"]