Bridal ~ Dream Wedding Boutique is Excited with Opportunity to work & Fly with Scoot
Just received a call from Scoot Airline!
In the near future, Singapore Top Overseas Pre Wedding Photoshoot Bridal will have chance to be working with Scoot Airline!
We are going to look for many many more opportunity & Great deal to bring to you couple!
Dream Wedding Bridal is focus on bringing great oversea photoshoot experience to you!
Currently we have Korea Pre Wedding Photoshoot, Taiwan Pre Wedding Photoshoot and any Overseas Pre Wedding Photoshoot!
We already had plans for our couple to be flying over to Europe (Paris, Holland, Venice and Rome) in this coming August 2014.
We are so looking forward to be going into it! Do keep a lookout for our blog post and our bridal will continue to bring many great wedding related news and promotion to you!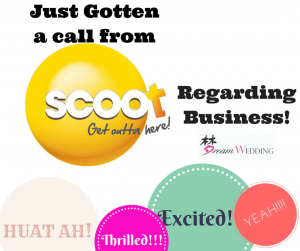 Should you be needing some advice on oversea pre wedding shoot or would like to share your Dream Wedding Photoshoot.
Contact us and allow our Bridal friendly consultant to assist you with organising your overseas trip.
We love hearing exciting and fun Dreams as we believe in creating once in a life time experience for you!
Contact Us
[contact-form-7 id="4903″ title="Contact form 1_copy"]