Overseas Pre Wedding Alert! Closure of business for How2Marry Korean Agency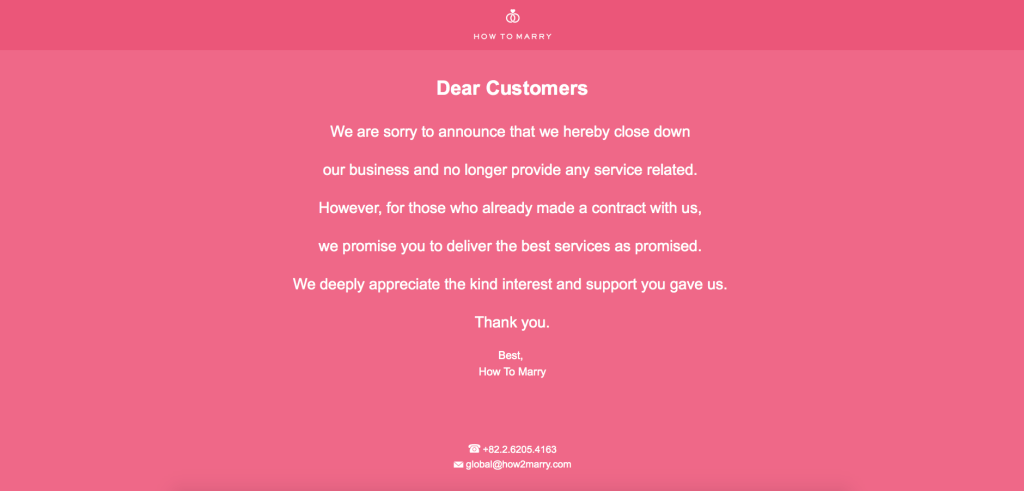 Screenshot of How2Marry Website informing couple of its closure
"What will happened to my Package & Money paid?"

This is one of the question our Korean Pre Wedding Couples had asked us when they saw the news for closure of How2Marry agency in Korea.
Upon receiving multiple calls from our couples asking: Are we working with How2Marry Korean Prewedding Agency for our Korean Wedding package.
We will like to clarify that "WE ARE NOT IN ANYWAY RELATED!"
So do rest assured that you will still get to enjoy your romantic Korean Pre Wedding Photoshoot through our Bridal!
We have the direct contact to all the studios thus the Agent will not affect us.
Neverthless, should you have any queries on the korea pre wedding photoshoot, we will still like to assist you further with it.
Checking on Various Platform
We did a check on the current website & Facebook of How2Marry Korea Pre Wedding Agency and we are really surprise that its no longer there.
We will like to alert all Singapore Couples that this company (How2Marry) is no longer around and should you buy your Korean Package through them or their Singapore Agent, please kindly check back with them if your package is affected in anyway. 
Assistance to those affected
We had spoken to our partners in Korea and through our network of 30++ studios, should you need any help with your existing How2Marry Package.(If it happens to be within our network)
Especially with the liaison of photoshoot with the studios, we will like to offer a helping hand if you need so.
Contact us here for any Questions
[contact-form-7 id="5853″ title="Contact form 1_Korean_How2Marry_Post"]