Mum with kids: Europe Winter Travel Trip (Road Trip Style) Part 1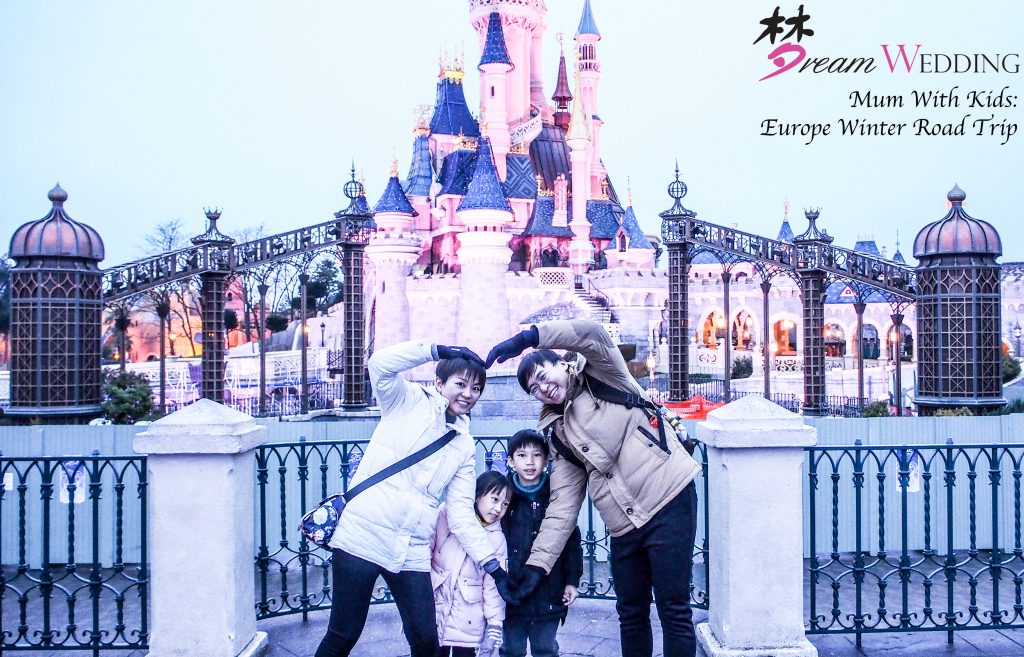 Disney Land with the Kids!
Hello every mum out there! I am Ivy, Chief Wedding Stylist and a proud mum with 2 kids (5 yrs old and 7 year olds).
Upon hearing so many concern about bringing kids overseas for a trip from our past couple. I decided to take some notes on my trip and share with parents whom may find some useful tips in their overseas trip.
So here we goes after coming back from this trip to Europe!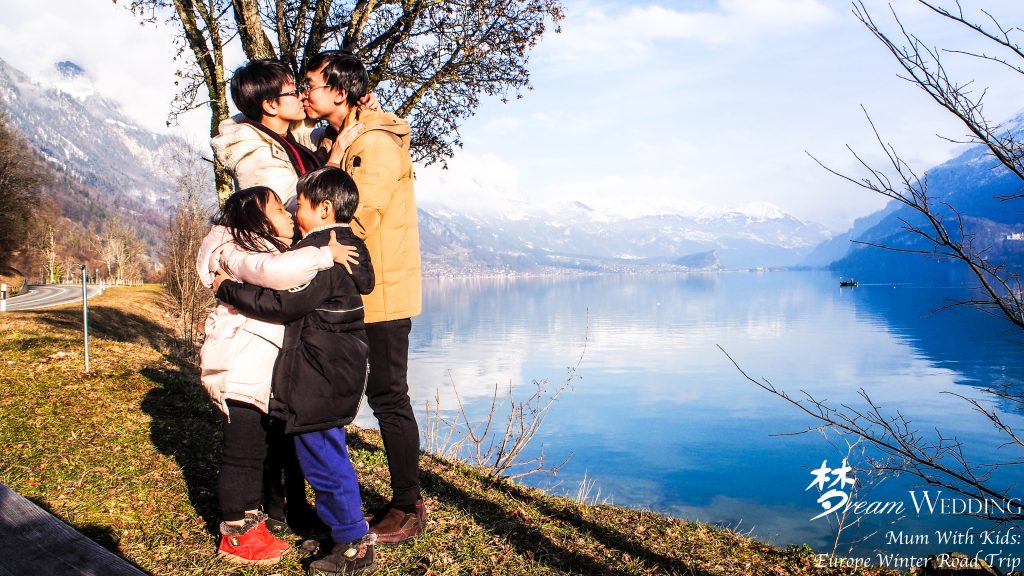 The Scenery Along The Road Trip with Hubby & Kids!
The Booking of Air Ticket…
We booked our air tickets from Skyscanner, the website I always used for air tickets. I will use it as a guide to browse through all the rates of my destination tickets. However I will still go the the respective airline website to confirm the price as sometimes airline website will have better deal than a third party site.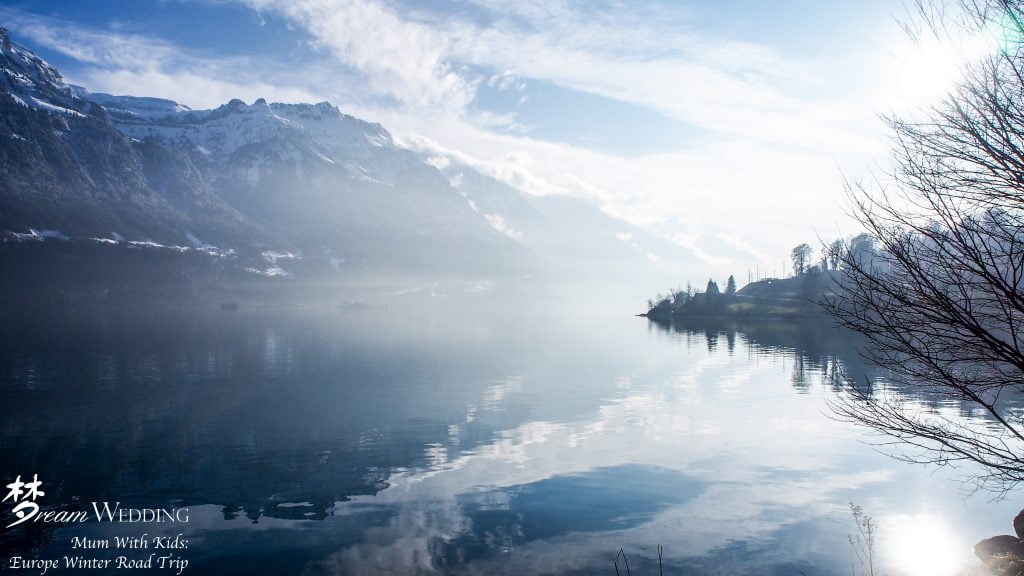 Scenery Along The Road Trip
The Booking of Hotel…
As for hotels, I will personally use Agoda. However for this trip I have started to use Trivago, Booking.com and Hotels.com to countercheck the price. To my surprise there are some hotels not listed in Agoda and their price is not always the best. Being a very value-received-must-be greater-tha-what-I paid-for person, I will definetely going through a serveral comparison before I commited. There are a few things is a must to have on my hotels list.
No. 1 Must Have : Kitchen
I am in love with Europe supermarket, there are so many varieties of items, imagine just for Ham selection there are more than 30 different kinds of ham. It is a heaven to me!! My son is a picky eater, it doesn't mean that serving him with nuggets or fries all the times will pass the test.. Hence I will prefer to cook my own meals. The minimun kitchenware I need is a microwave. Europe supermarket do sell microwaveable food such as nasi goreng, pasta or even masala curry with rice. If you love rice, you have no worries to have rice on your plate when you have a microwave in the room. If the kitchen comes with frying pan or pots, you can even have sunny-side up and sausages for breakfast and hotpot (steamboat) for your dinner!! This time round, we brought Hai Di Lao soup base for our Chinese New Year steamboat…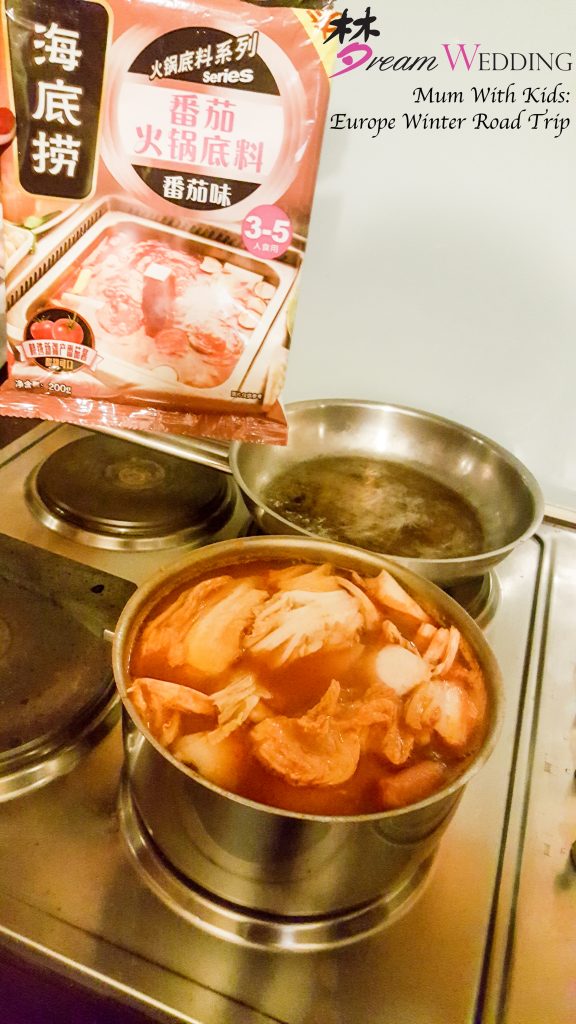 Steamboat in Europe!
No. 2 Must Have: Car Park
As we are self-drive to all the countries (pls note that Europe is left hand drive!!), a car park is another must have on the list. Parking in public car park can be very expensive and long walking distance from the hotel hence it will be great to have a car park lot at your hotel, this is to minimise the walking distance with kids and luggages. If there is no parking lot available at the hotel, you can book a hotel near to a public car park, lookout for train or bus station, definetely there will be parking lots available.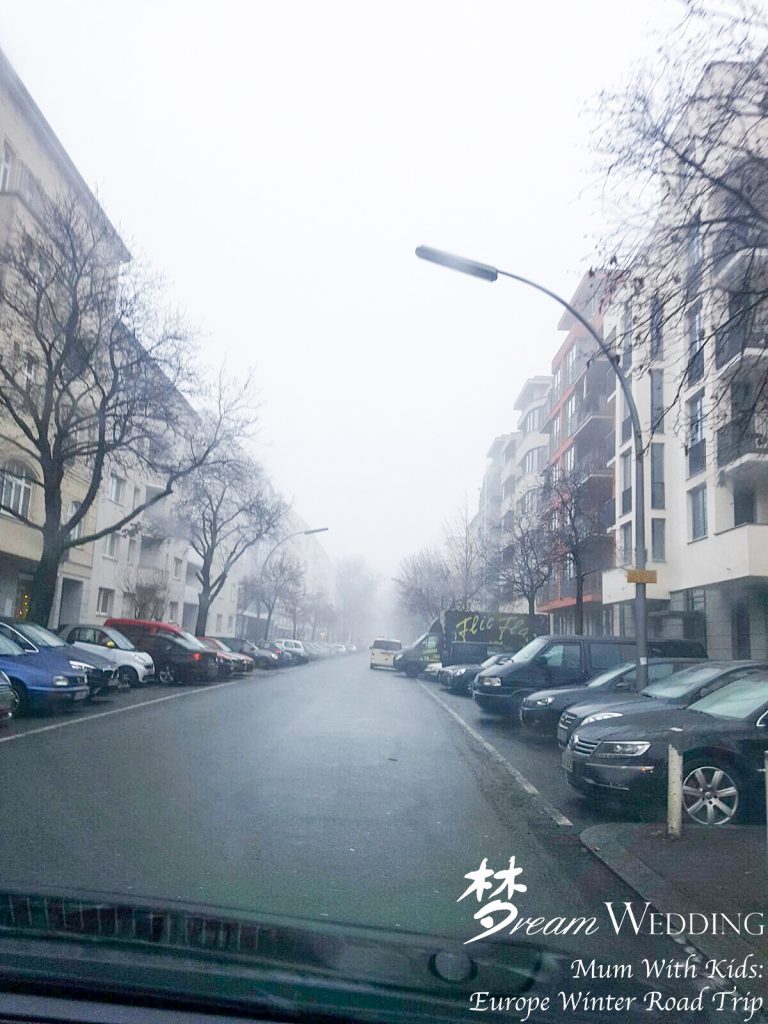 Car Park is really important as it can get expensive in City
No. 3 Good-to-have: Washing Machine
Although it was winter time, I still need to do laundry. My third on the list is washing machine, however this is just good to have. There is always self-automated washing machine shop around hence it is not a must have in the room.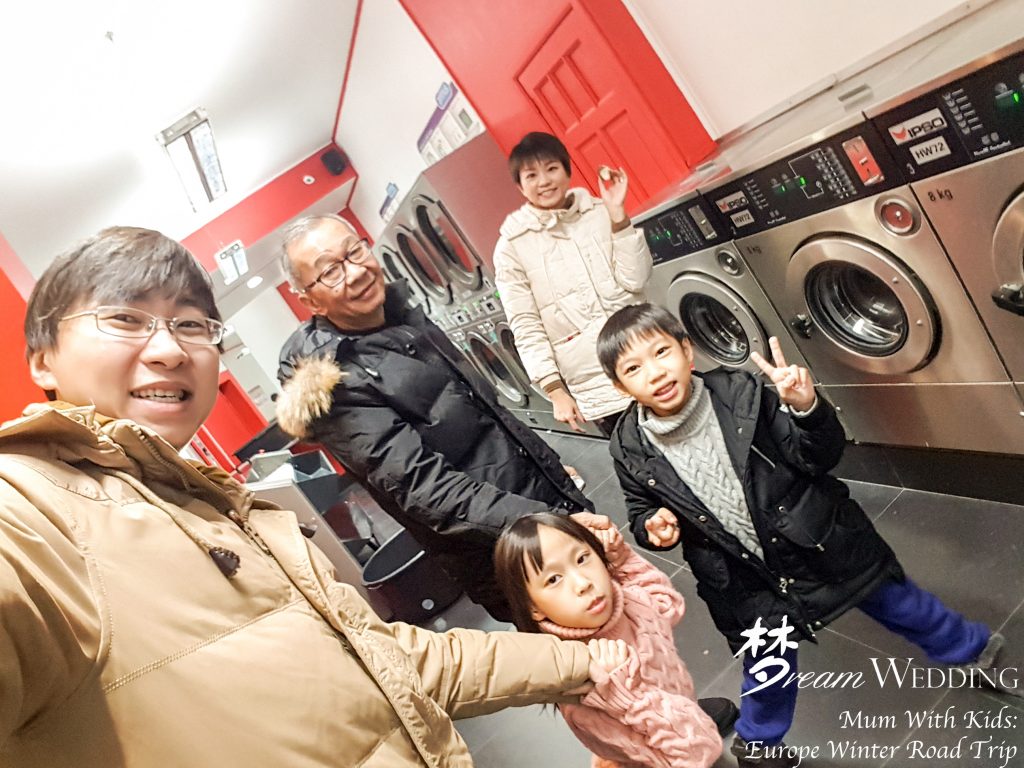 Washing Machines!
I preferred to stay in hotels rather than Airbnb is because I feel that it will be more secure and safer. Besides that most hotels will have lift to the rooms, unlike Airbnb, I do have experience of carrying my luggages all the way up to 5th storey with stairs in Paris.. Terrible back breaking experience..
The Packing..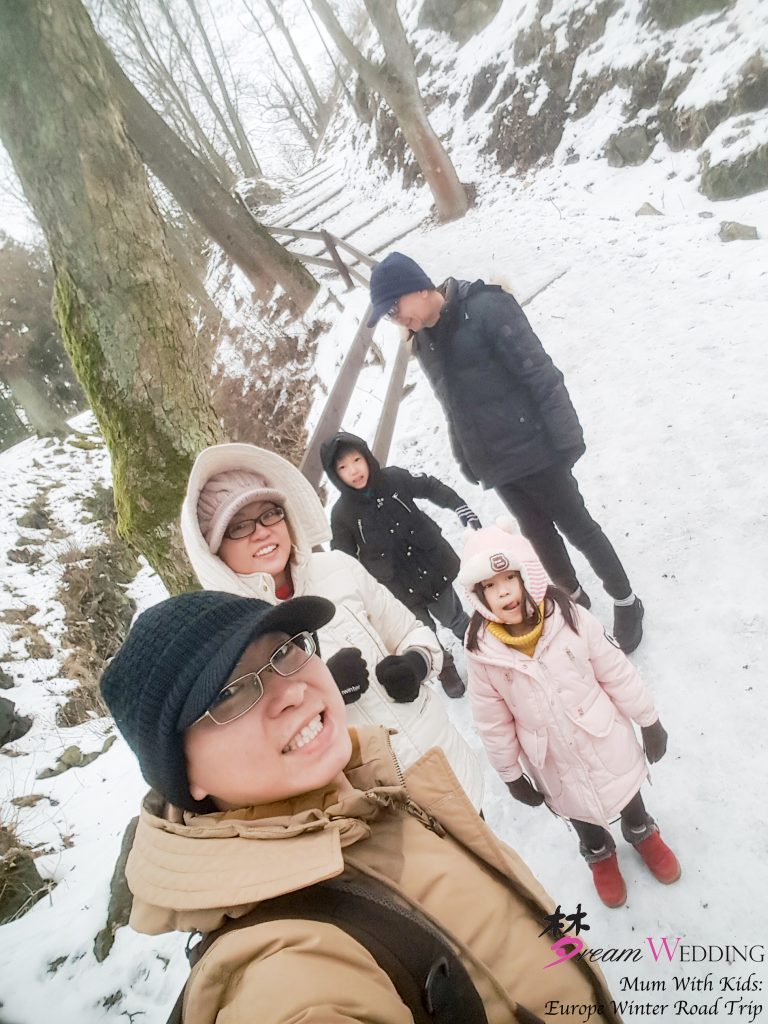 Winter Trip with family! Its really Cold!
As our family is of 3 adults and 2 kids travelling together (有老也有小), we can't bring a lot of luggages and we need to pack light. But… we are going during winter, how to pack light…??
The most important thing on my mind is how to keep the kids warm.. It is definitely not a fun experience when the children fall sick during the trip.. Hence I start my research on winter wear and what to bring along during that trip. From my past trips, I had used Uniqlo Heat-tech to wear as long john, so this time round, it will be the same. They do have lounge set too hence I bought it as nightwear for the kids. I love the material, it is light yet warm and comfy.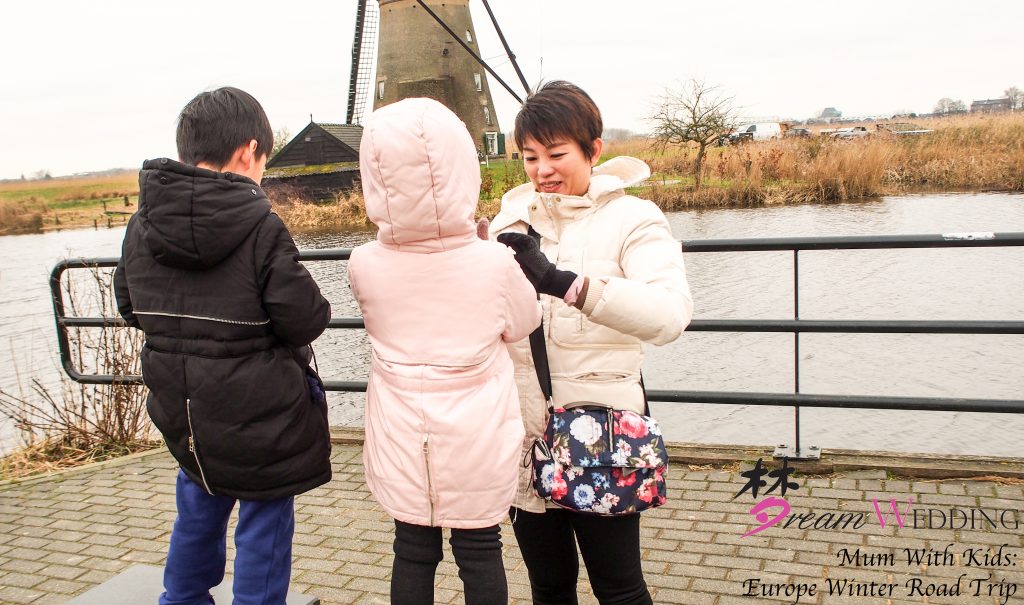 Helping the kids to stay warm!
Next is the outerwear. I bought these winter pants (I called it furry pants) from Taobao. For the ladies it looks like tights however there is one layer of velvet inside the pants which can help to keep warm. My daughter is super afraid of warm and hot, hence I was thinking if she choose not to wear the Heat-tech innerwear, this velvet pants will still able to keep her warm.
At the end of the trip, I was just wearing my furry pants without the innerwear for my bottom, same for my daughter; we felt that it is good enough for us.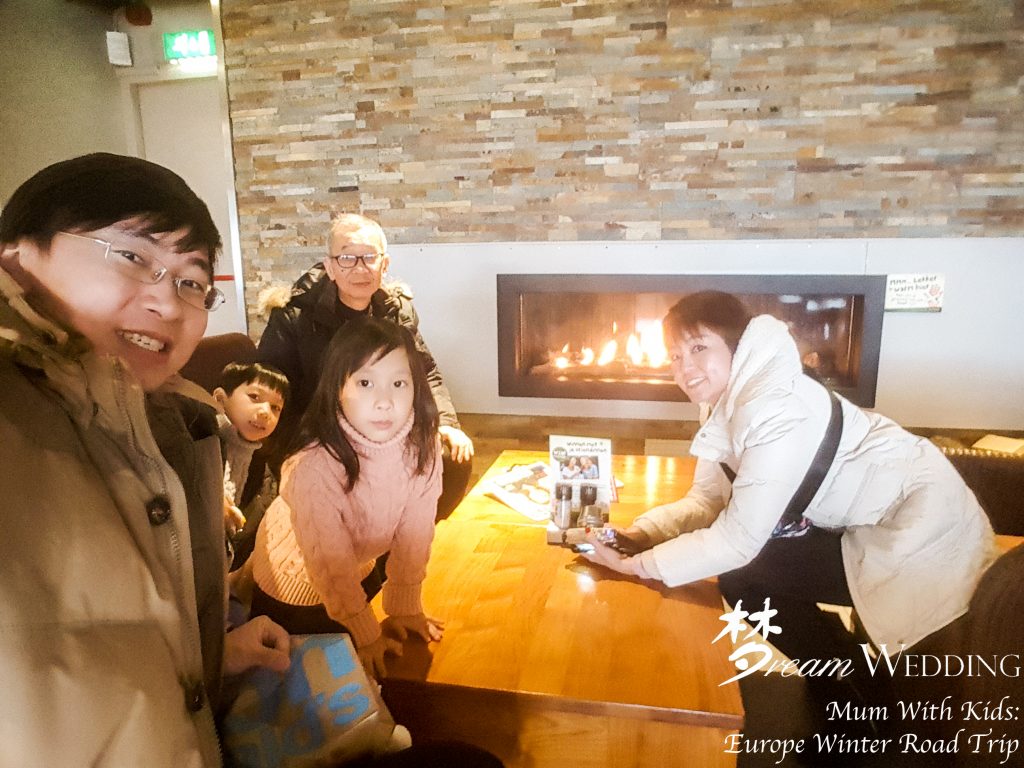 Fireplace!
For our top, we have sweater and winter coat. I also bought winter gloves, hat and woolen socks. I knew by buying all these items in Singapore would cost a bomb and limited selections; hence I have decided to purchase all items from Taobao. China do have four season hence getting all these winter items are easy, with the same price I might be able to get something better in term of design and quality.
Besides that, I also bought thermal flask (1 big one and 2 for the kids) from Taobao as I afraid that we doesn't have any warm plain water to drink on the road. What I love about the kid's thermal flask is it comes with drinking straws that makes drinking on the go easy.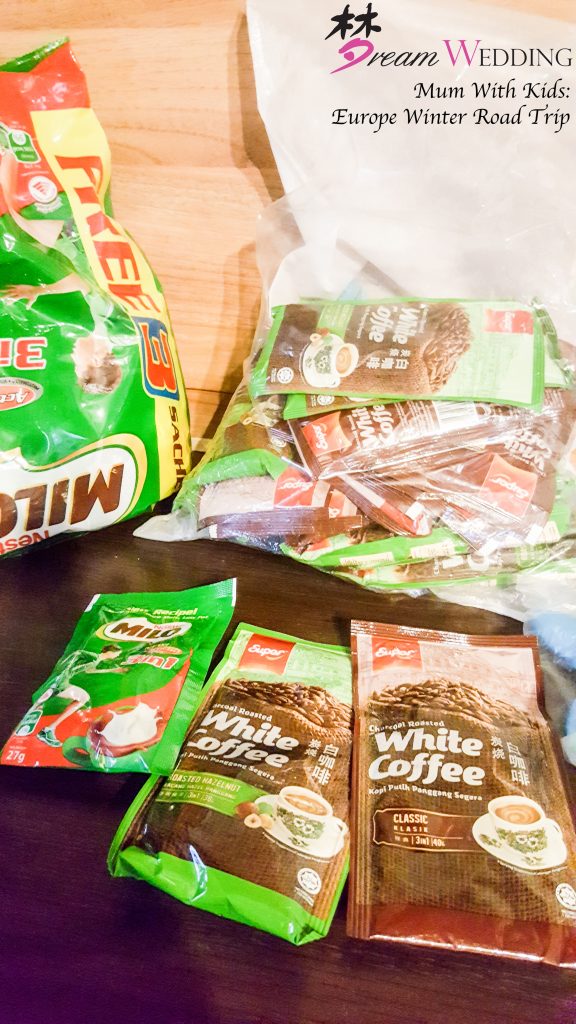 Milo! Kids Favourite!
In order for me to ready for set off really quick from destination to destination and reduce a little of the weight, I have decided to NOT bringing any shampoo and body foam. I just bring along toothbrushes and mini tube toothpaste. For me, I bought along the minimum required quantity of facial products and facial masks to replenish the water in our skins. Throughout the trip, moisturiser is useful too, as the skins get dry due to the cold weather, moisturiser helps to ease the itchiness.
What to bring if you going for winter road trip?
A Good and Updated GPS: In Europe you just need to key in the postal code or the name of the building, unlike Japan, you have to enter their landline number.
Thermal Flask
Back Seat Hook: for your shopping needs..
A few CD of your favourite songs: Their radio is boring hence is good to bring along a few CDs to play on the road.
Car chargers
Soft Travel Bag: It is useful when you need to do laundry or having more shopping loots.
Item considers buying for your trip: A electric kettle.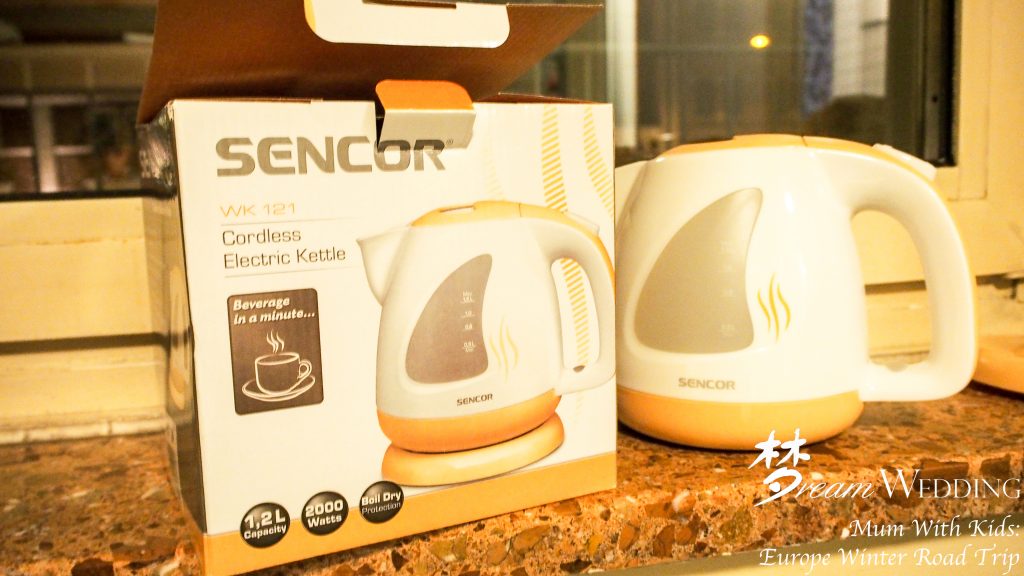 Travel Portable Kettle!
We found out that hotels doesn't really have kettle in the room, although there is shared kitchen in some of the hotels, the kettle might not be clean. Hubby can't stand to drink water from unclean kettle; hence he decided to buy one from the supermarket.
He mentioned that this is the best investment ever!!
Bonus Tips for Packing!
As we need to transits before reaching Paris, we will usually pack 1 set of winter wear for everyone in a hand carry luggage and the rest in checked in luggage. Just in case your checked in bag did not reach in the same flight as yours!
Do you want to read more?
Do let me know if this article is helpful to you and your family trip as I will be able to write more of it if it is useful to you:)