Gossip Monday! Korean Star Won Bin(元斌)  & Lee Na-Young(李娜英) Just gotten Married!
Every Monday, Dream Wedding Gossip Monday team will share with you news and article about whats going on in the world regarding wedding news, trend, celebrity or anything regarding wedding! Keep a look out for our interesting article every Monday!
Today, we are sharing about a couple whom had dated for years but spend the least for their Wedding! Korean Star Won Bin(元斌)  & Lee Na-Young(李娜英) just gotten married with $1300!
On the 31st of May 2015, one of the popular Korean actor, Won Bin(元斌) married his other half, Lee Na-Young(李娜英) at Won Bin's hometown, in Jeongseon. Jeongseon is a country in Gangwon Province, South Korea.
Mostly what you read on the medias or magazines, are about actors & actresses that got married will definitely holds a grand & expensive Dream Wedding. But this newly wed couple choose to hold a memorable yet very simple wedding.
(See Related Article in Jay Chou Wedding)
This Celebrity Wedding only cost 110,000 won, which is about only SGD$1300!
Unbelivable? Lets see how this couple held their wedding at such low cost.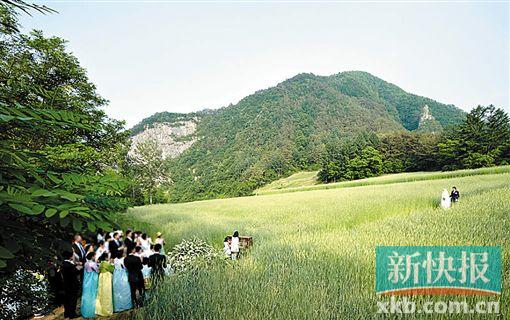 (Credit: World People CN)
In general, what you will see in a common celebrity weddings, are couples walking on red carpet with very grand setting.
But this newly wed couple choose to walk through the huge land of wheat in an intimate setting.
Only a list of 50 family and close friends are invited to witness their big day. (Limit your guest list and you can save quite alot of money)
(See Related Article in Cutting on Guest List)
Wedding Details
Her Bridal hand bouquet is form by wildflowers. Their wedding dinner, are prepared by the groom's parents and with the help of relative.
They rely lots of the wedding details to the work of themselves and to their family.
Simplicity is key to their wedding!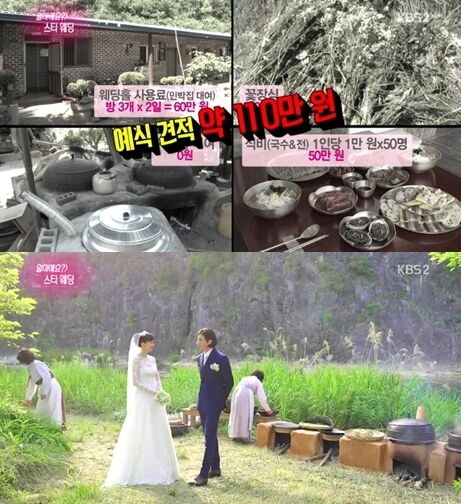 (Credit: World People CN)
Wedding, is just a day. What's for a lifetime is the marriage, not the wedding. It's not about how grand and gorgeous the wedding will be. What's more important is, does this marriage give you happiness. In order to make this marriage work out, definitely the word "LOVE". Even the simplest wedding can be the most touching and beautiful wedding, because you have the most sincere blessings from your parents, relatives and friends.

(婚礼只是一天,婚姻才是一辈子。婚宴有多隆重多华丽都不重要,更重要的是婚姻要幸福。而幸福的婚姻是要用爱去经营的。一场简单的婚宴,也可以很美丽很感人。因为他有家人,亲戚和朋友最真诚的祝福。)
Quote from our Executive Wedding Planner, Ms Ivy Chin.
Contact Us Here for Any Services For Your Dream Wedding!
[contact-form-7 id="6418″ title="Contact form 1_Gossip Monday_ Korean Star Wedding 8 June 2015″]