One of the most important things in any wedding is the wedding dress. Sure, the tuxedo is important too but let's face it, the dress takes most of the attention away and like everything else in women's fashion, they come in way more styles than their counterpart's attire. We are going to look at some of the trendiest wedding gown fashions this year has brought.
Detached Sleeves
We see this everywhere now, they look like tube tops but with the sleeves just barely hanging on the upper arms. This has been incorporated into the wedding dress as well. If you are often seen in such tops in your everyday wear, you probably look great in it. Why not get a wedding dress in that style as well?
Wedding Jacket
A fan of blazers and trendy cardigans or jackets? If your answer to that questions was a YES, then you might find yourself more than just willing to walk down the aisle in a dress and a wedding jacket. The jacket can be lined with pearls or stones, according to the style of your dress and custom maid to your liking and fit.
Princess Cape
Female superheroes are all the rage nowadays, and if you are all for woman empowerment, instead of a long train or a veil, why not don a cape instead? Have it attached to the shoulder of your dress or wear it as a separate piece. You can also have a hood, little red riding hood style.
Mid-length
This trend came back right from the 1950s, and during that period, actresses could be seen wearing this style of dresses for their on-screen weddings. If long gowns and trailing trains are not your thing, mid-calf length wedding dresses look just as good, and are also practical!
Colours
Sure, white is the classic colour for wedding dresses, but why not be a little bit different and add some colour to your gown? If loud colours are not for you, light pink and nude shades are really in this season for wedding gowns.
Mini
This might be highly non-traditional and, weddings in Singapore don't usually see this trend but this also means having a mini wedding dress will set you apart from other brides for sure. Be it mini-skirt, a short pantsuit or modern high-low, you are guaranteed to be one stylish bride should you dare to bare. Coupling this with a long cape or even a train would be stunning.
Wedding Pants
Are you not a dress girl? Would your friends and family have to offer to pay you just so they can see you in a dress for the first time? Well you don't have to change that for your wedding. It is supposed to be your day after all, you can get married in pants and pass it off as fashion, because it is! It not only looks really modern and stylish, you can show who wears the pants in the relationship!
Shoulder Bows
Bows are seen everywhere on wedding dresses, but a slightly novel take on bows would be to put them on the shoulders. Be it a one-shoulder dress finished off with a little bow (or a really big one), or bows on both shoulders, you can rest assured this will be a trendy bridal look for you.
There are so many types of bridal fashion out there, and we hope we were able to inspire you with some trendy ones to adopt into your wedding dress.
Testimonial from our Past Actual Day (AD) Wedding Couple
Marshall & Doris Lovely Couple Review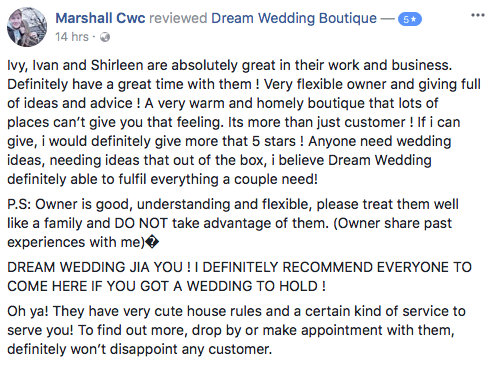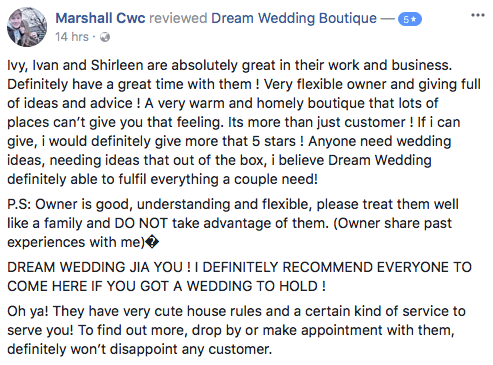 Elden & Vicky Beautiful Couple Review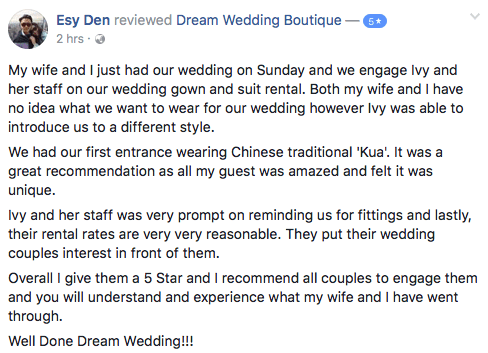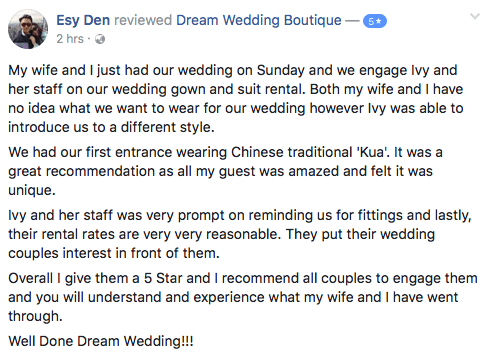 Wei Lun & Haymar Sweet Couple Review


Be one of them Contact Us Here for your Destination Dream Wedding Photography!
Related Wedding Services