As pre wedding photo-shoot become an increasingly important element in Asian weddings along with the growing spending power of the overall population. Couples are looking more and more at overseas photography for their pre-wedding photo-shoot.
Which is a great thing because you get to have your wonderful moment captured in your dream country! But prior to that, there are some points to take note, as there can be other variables or unforeseeable situations overseas.
Allow me to guide you through a few main points that you MUST know!
1st Important Point – Photographer
Being one of the main elements for a successful photo-shoot, you definitely have to start off with getting a photographer.
But here comes the first question:
Should I hire a photographer locally in the foreign country or fly a team over from Singapore?
There are pro and cons for both choices. Here are some examples:
1) COST: It's definitely more cost saving to hire locally than flying a team over. As not only will you be paying for their plane tickets, you are also bearing their accommodation and expenses during the trip.
Usually, a team consist of the photographer, make up artist and an assistant. That makes up to an additional cost that can goes up to $7400, depending on which country you choose to go.
2) SECURITY:Flying a team over usually occurs when the place you sign with is based in Singapore. This provides more security as you know that you will be able to look for someone physically to attend to your post photo-shoot process. Whereelse for foreign photographer, there might be a risk of not getting your photos after the shoot or the photographer became uncontactable.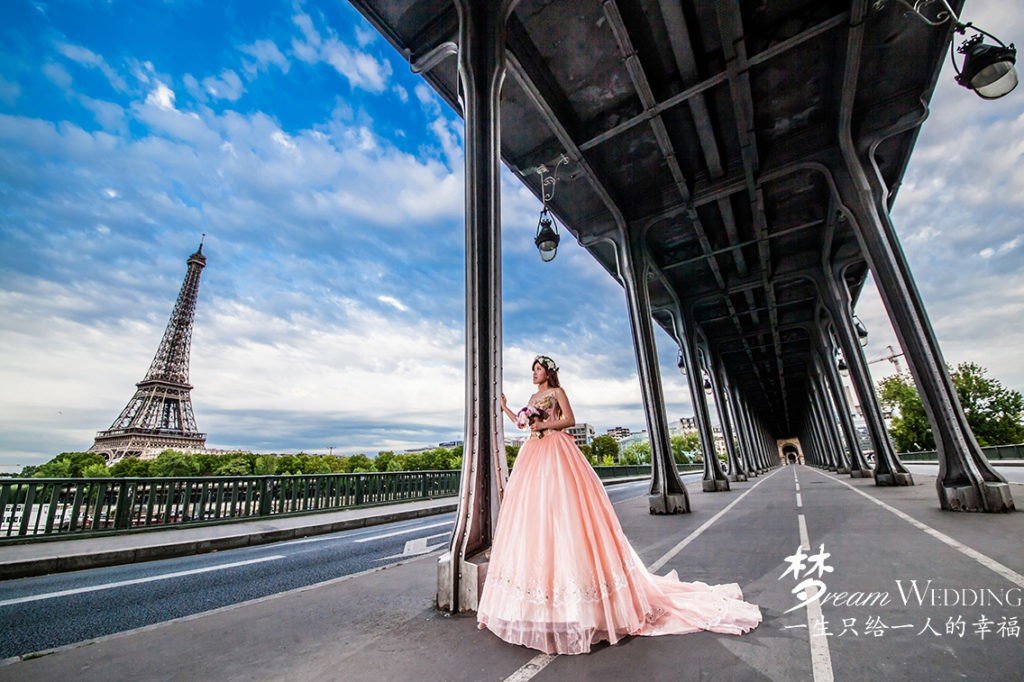 3) FAMILIARITY:By using a foreign photographer, he / she is usually more familiar with the local places and scenes for photoshoot as compare to the Singapore team. Hence, they will be able to provide suggestions on special locations.
These are just some basic concerns and the list can go on and on. Considering so many variables, it is always better to source for your photographer carefully in regards to your priorities and concerns. If you are on a budget and willing to take some risks, you can choose to hire a foreign photographer. Vice-versa.
However, why get yourself into this tough decision when you can get the best of both worlds?
Over here in Dream Wedding, we ace in providing affordable Destination Photoshoot for our couples. You will be able to have your photoshoot overseas WITHOUT flying a team over from Singapore. We have set up 14 cities around the world for your Destination Pre Wedding Photography!
2nd Important Point – Photographer and Make-up Artist License / VISA
Do take note on this if you are going to fly a team or even just bring a photographer along with you.
WITHOUT appropriate visa or license, your hired photographer can be DEPORTED straight back to his / her origin country right upon reaching your dream destination.
Imagine.
Everything is ready and both of you have already flown over along with your team. But your photographer or make-up artist got stopped and denied entry into the country. There is only one ending: the photo-shoot cannot be carried out and you have wasted all your money.
3rd Important Point – Seasons & Geography of the country for your Destination Pre Wedding Photography!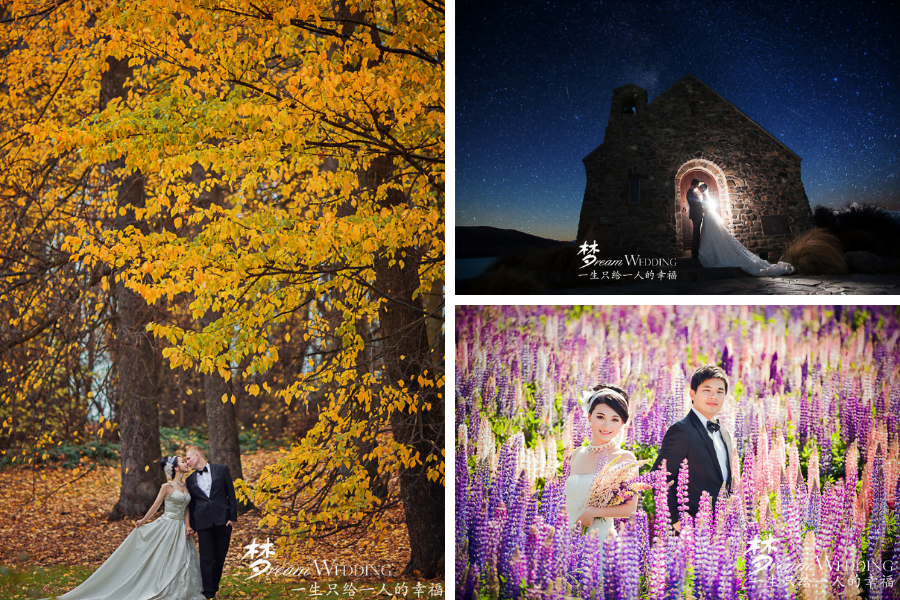 If the country you are interested in do have a few seasons change, do look up on how the photos will appear in each season so that you can actually plan on when to go. Always do some research beforehand so that you can further visualize what kind of pictures do you wish to have in your album or even just as memories.
As the time period for each season do have slight changes every year, it is always better to plan your travelling period right in the middle of that season so that you will not miss the view which you dream about.
When considering about the season, you can also think of what kind of geography do you prefer. If you are going more on the city look such as places like Paris or Prague, the season would not be so much on a concern as compared to scenic places such as New Zealand or Australia.
London Pre Wedding

Australia Pre Wedding

New Zealand Pre Wedding
4th Important Point – Communication with the team
Once you have done some research on where and when to go, it's time to make your ideas into actions by conveying to your photographer. Maybe there is a specific building that you want to take or a lake you want to go to, it's always good to give your photographer some heads up about your preference so that all of you can plan out a route together for the photo-shoot.
Along the way, as the communication increase between both you and your partner with the photographer, you will gradually get more comfortable with him / her. This will allow both parties to have a smoother photo-shoot process, as you will be comfortable with each other's way of communication during the actual day of the shoot.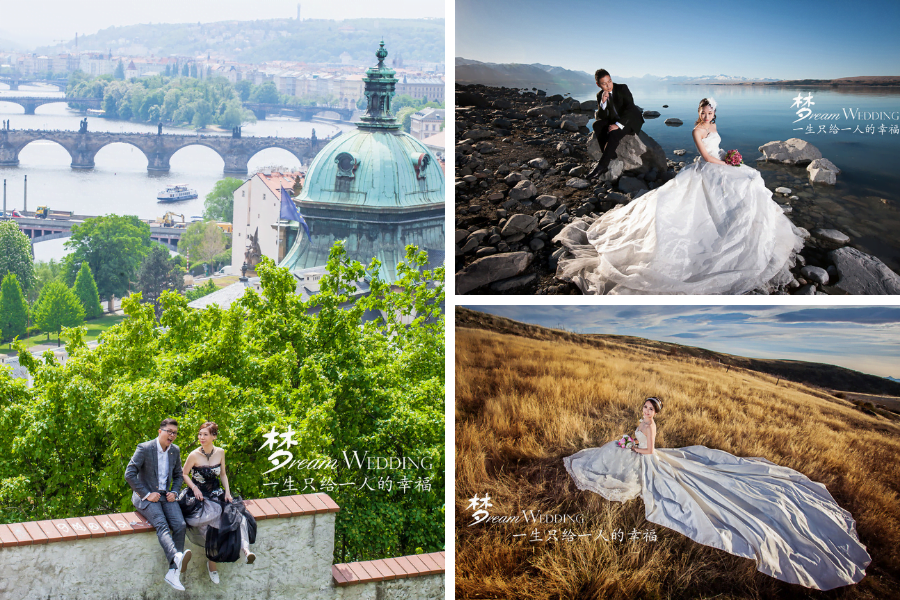 5th Important Point – Wear comfortable shoes
The day to fly off for your photo-shoot is finally here. But you fell into a dilemma.
Pretty but unbearable high heels or simple but comfortable sneakers?
I will greater recommend you to go for the latter. To be very honest, most of the time what you wore on your feet will not be shown on the photos during the shoot. As your gown will be covering your legs and usually your shoes will not even show.
If there is a pair of heels which you really want to show or have inside the shoot. Just wear it to take a few shoots and you should really go back to comfortable footwear. If increasing your height is the concern, how about considering platforms? Not only does it give you some boost, it will be comfortable for the photo-shoot as well. And it's especially important to wear covered shoes if you are planning to have the photo-shoot on top of rocks or on uneven grounds.
Find Out More from our Bridal team via WhatsApp 82998796!
P.s. See What Our Recent Bride & Couple Review on our Services for their Dream Wedding
Contact Us Here for your Dream Wedding Journey!
Related Wedding Services