The Real Reasons Why Your Boyfriend Is Not Proposing
All Girlfriend will imagine 2 things in their romantic courtship with their Boyfriend.
1st things is walking down the aisle with your beloved prince charming.
2nd will be the fantasy on how will you react when your boyfriend propose to you!
Don't worry ladies, you will most likely have your 1st dream come true! Singapore Grooms are usually more than willing to make your Dream Wedding come true as long as the budget allows so. (Wedding venue usually take up 80% – 90% of the overall wedding planning budget)
However, Singapore Brides you will be in for a surprise when it come to proposal! Singapore Boyfriends usually will proposal in this 2 easy steps. (Uniquely Singapore Culture)
Step 1: Lets go apply for BTO. Which one will you like?
Dear, BTO takes about 2-3 years to build so lets faster go and apply for it. What do you think?
At this stage, when you accept the BTO proposal. Your newly promoted fiancé will be assured that you will marry him and he know he will be able to rely on you for planning the wedding process such as wedding gown rental, pre wedding photoshoot and traditional wedding ceremony process. Someone will have to do it too and since its mine (Bride) Dream, I will want to take charge for it too!
Step 2: At about 1 – 3 months before your wedding, he will kneel down and ask for your hand.
Dear, as we are going to walk down the aisle. I will like to ask if you will marry me?
Usually at this stage, when you as the brides will be so immersed with the planning process and running around to coordinate the various vendors, your fiancé will suddenly pop the questions. A popular choice to proposed will be during their Overseas Pre Wedding Photoshoot and you will find no reasons to reject him. However, you will not have the element of surprise as you are already in the process of getting married, so why will anyone say no to him right?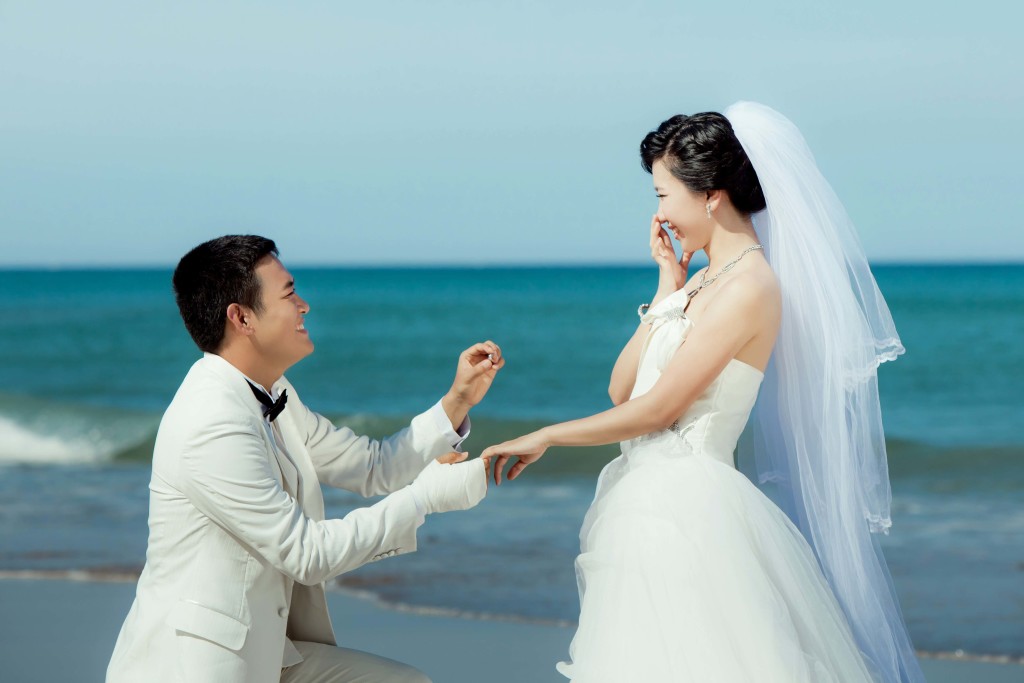 Let us share with you some reasons why he is not popping the questions.
He's trying to save up money
You may not believe it, but there are alot of guys whom have no ideal how much a proposal ring will cost. Therefore they don't know how much money should they save for a diamond ring. (They did not read Dream Wedding Blog too :p)
Besides saving for the ring, he will have to pay for the stealth photographer, film crew, stunt doubles, maybe a large bouquet of flower (999 roses) and whatever else he needs to make your proposal famous on youtube. So definitely he will need time to save money. Give him the benefit of doubt:)
He's afraid of rejections
Everyone hate rejections and what is more assuring that my girlfriends had demurely accepted my implied proposal of applying for HDB already. So it will means she has already agreed to marrying me already:)
He's lazy
Definitely you will never go for this type of guys but what we are saying is that there is such a possibility. Especially since there are no threat of immediate danger so men are generally happy to put off whatever they need to do.
A good example will be to clean the house after a party, but it will not hurt to play Playstation or iPad for another hour before he pack up right?
Your man will definitely be thinking of proposal but he may need a little push to get off his butt and onto his knee. Or you will always be at the mercy of Mr "I will get it done but give me more time"
He's Not Lazy but more of a Sloth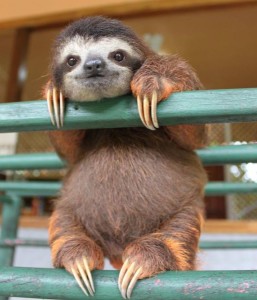 This is a totally different breed of man from lazy. He is simply a sloth. (A cute sloth just like this picture)
Your man have every intention to proposed to you early but he does not realise that he is putting it off. From your perspective, you had spent the last few years finding ways to impressive him and convince him that you are the best partners. While in his mind, both of you are in love and are totally on the same page. So why risk messing all these good things?
If you asked him if he will proposed or getting married, he will definitely say Yes! Problem is that making it into reality require major decisions and big changes to the way of life, which are scarier than a wonderful relationship that are working perfectly already!
So what can you do?
Remember that if you both know that other half is "the one" then this guys want to be with you! It is just going to happen that you will walk down your Dream Wedding aisle and married to your love one. So just keep dropping hints such as sending him links about wedding (Maybe from our Wedding Blog resources too)
However, ease the pressure whenever possible, you really want to have a happy groom too:)
Conclusion
Even if the groom does not really seems super involved in the wedding planning process, grooms are really going through the same life changing experience too. So they do need to find ways to ease their new found status. Forgive him and still love him alway! Cheers!
Related Post: Wedding Planner Video Tips on "Is Wedding Fair Deal better than Normal days"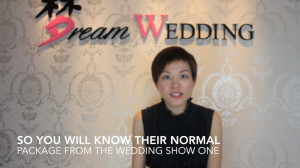 Related Post: Gown Rental Special Promotion!