Singaporean Influencer cancels her oversea wedding photo shoot in New Zealand, as photographer wasn't legally authorized
Original Story from Zaobao <早报> Website. Picture & Story from Berlin Ng's Facebook page:
I am sure everyone expects to have a prefect & enjoyable Pre Wedding Photo-shoot experience/ memories, as you would have paid a great sum of money for it. Especially for going overseas wedding photography!
However, it is not the case for Berlin Ng Singapore influencer.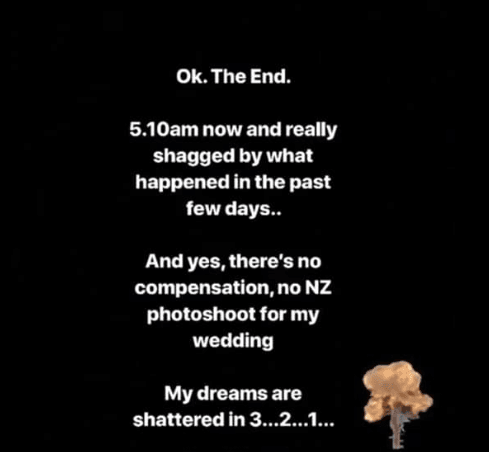 In Berlin's own words, she describes her experience to be, " Traumatized and lost…" "Honestly, I'm speechless…" Unfortunately, she had a horrible experience with the bridal / photographer she had engaged with. And here is the Horror Story.
Like many couples, Berlin and her fiancé want to have their pre-wedding photo shoot taken with the beautiful landscape of New Zealand. For their photo-shoot they hired a Photographer team in Singapore. However things went south for them just 4 days before their trip.
Photographer doesn't have a legal permit for commercial photography overseas!
About 4 days before their fixed photo-shoot date, the couple was told by the assigned Photographer that he had trouble obtaining a visa to New Zealand.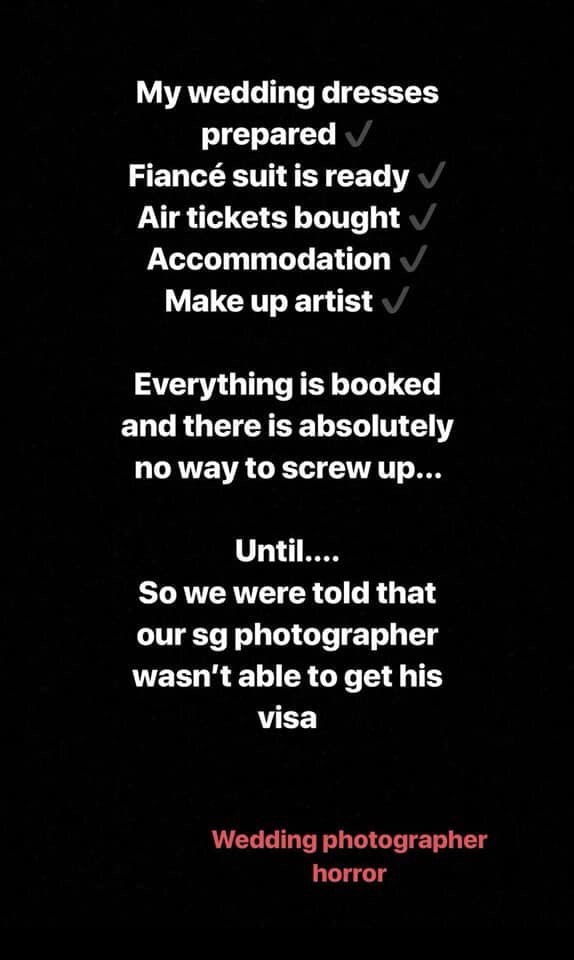 You might think that since you have paid the company, they would be responsible to take care of all the necessity and couple wouldn't have to worry about it. Yet, at the very last minute when all the essentials on your side is prepared for the trip. The appointed photographer is not able to even pass the immigration, which is expected, as he will technically be working in a foreign country on travel visa.
It's only 4 days before flying and Berlin is definitely feeling all the stress, which wasn't necessary to have if proper documentation is done. However, the photographer communicating with them still seems indifferent about the situation and lack of urgency as felt by Berlin in her post.
As seen in their chat, the photographer is not giving any reassurance for the situation and treat it as something that can they can only "hope for the best".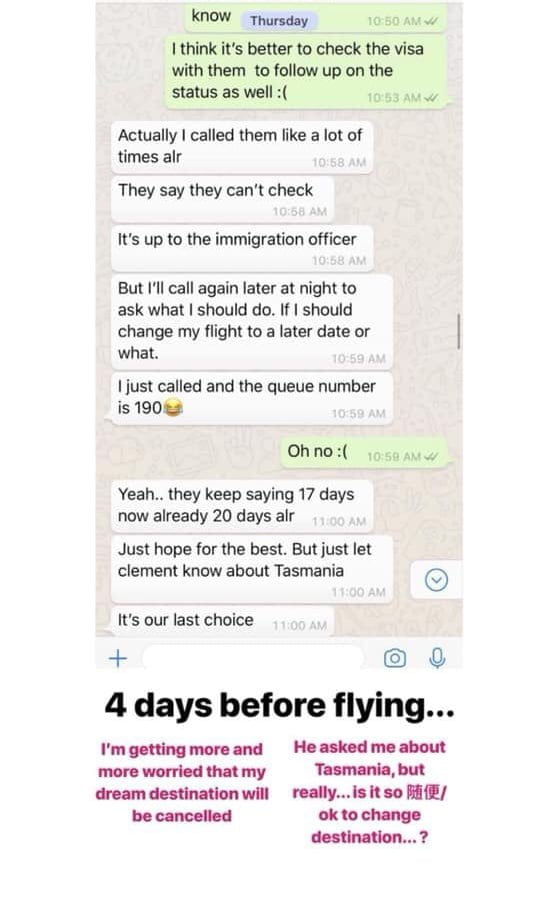 Isn't it upsetting that after all the planning and money placed into the trip, you ended up with a great risk of forgoing the whole trip? Which was felt by Berlin in her post.
At the beginning, it wasn't informed in advanced to the couple that the photographer will need a visa for the photo-shoot throughout the entire planning process. This is infact a major variable and a great concern as photographer is one of the key elements for the photo-shoot! Hence, this portrays the couple to felt the unprofessionalism of the photographer where such an important details are not conveyed at all.
The photographer ends off with saying Tasmania will be their last choice. Basically, leaving the couple with no choice. Imagine, your Dream Wedding destination photo-shoot have always been New Zealand (or any of your preferred destination), but you were told to accept another venue due to reasons that wasn't even brought up to you in the first place. How would you feel?
Bring your own photographer overseas, cheaper option?
Many might think by comparing prices, sourcing for your own photographer would be cheaper or more value for money.
But what if…
Imagine.
You had everything prepared, the gown, suit and even make up artist ready for your exciting photo-shoot. On the day of photo-shoot, you are all glammed up with beautiful make up and hair done on the streets of London, all set for the full day of photography.
And then…
You are suddenly stopped by the police officers that are patrolling around the city, asking to see the work permit required for the commercial photo-shoot in their country. Next, it turns out that your photographer is unable to provide the legal documents to prove that he/she is authorized for the photo-shoot. What happens afterwards is that everyone are being arrested and even deported back to the original country of travel.
When this happens, you will find yourself lost in the middle of the streets. Without any clue of what your next step should be.
This is a scenario that are really real as many country are very particular about illegal workers in their country.
One example of a very true incident happened in Indonesia.
11 US citizens and four Canadian nationals were kicked out of Indonesia for doing illegal photo-shoots and misusing tourist visas. (Legal work visas are need for any form of work overseas)
Article from The Jakarta Post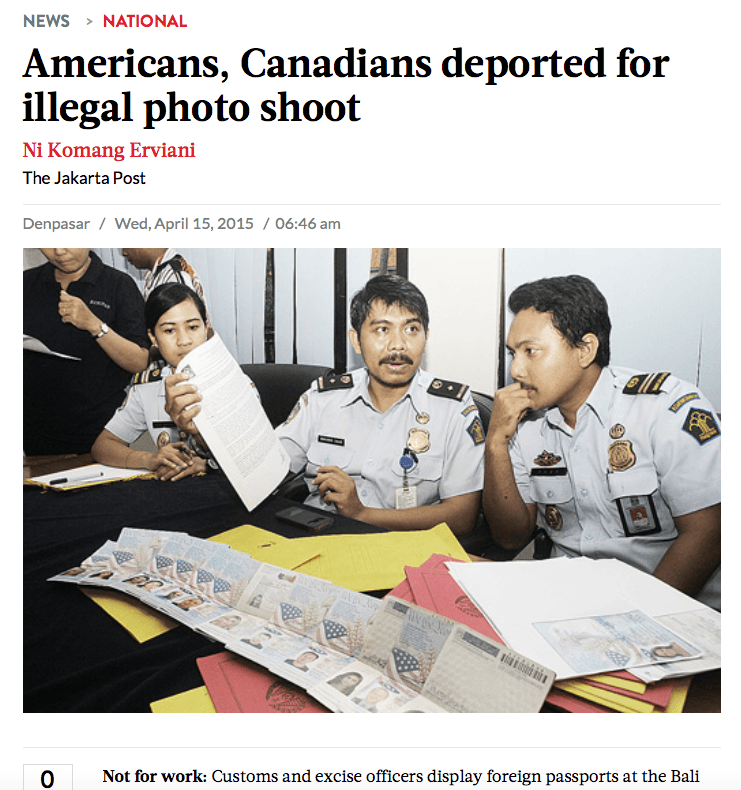 The arrested foreigners were organizers of the photo shoot, seven models, two photographers, a lighting engineer, a hairdresser and make-up artists.
They were there for an event and it was promoted through social media. Which shows that their true purpose of visiting the country was for commercial work.
However, they only had visas on arrival upon reaching the country and did not have the necessary work permit to conduct commercial photo-shoots there.
It's not just the photographers, but all 15 of them are found guilty of violating Indonesian Laws on Immigration and they were deported back to their countries of origin.
Here is a honest comment by one of the reader.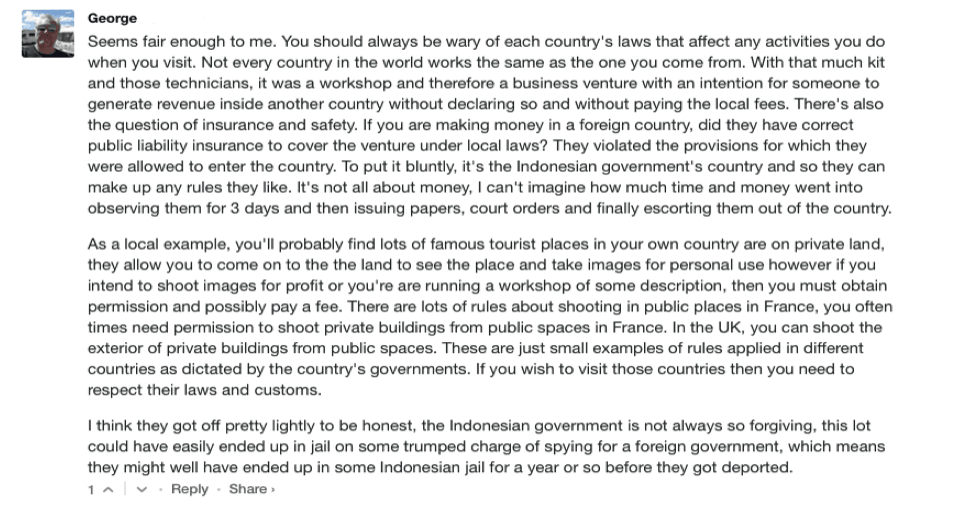 He stated that, "they got off pretty lightly" ending the photo-shoot and getting deported is already bad enough but in some countries you could not imagine what other charges you would face.
Finding your own local photographers in the other country based on online searches?

The biggest concern you might have when sourcing the photographer that is located in the country is that it would be difficult for you to get your photoshoot item back. What if you are scammed? Especially you can only contact the company thought email or chats, and what if the company claims that the shipping for your items will cost you more than your expected amount. You have no choice but to pay it if you value your photos taken. Or even in situations if your item is lost in the shipping process there is nothing you could do about it.
On top of that, you might not know when you are over changed due to the difficult currency rates. Check out the review below for an unpleasant experience from a customer that engaged with an overseas bridal company via Singaporebrides forum.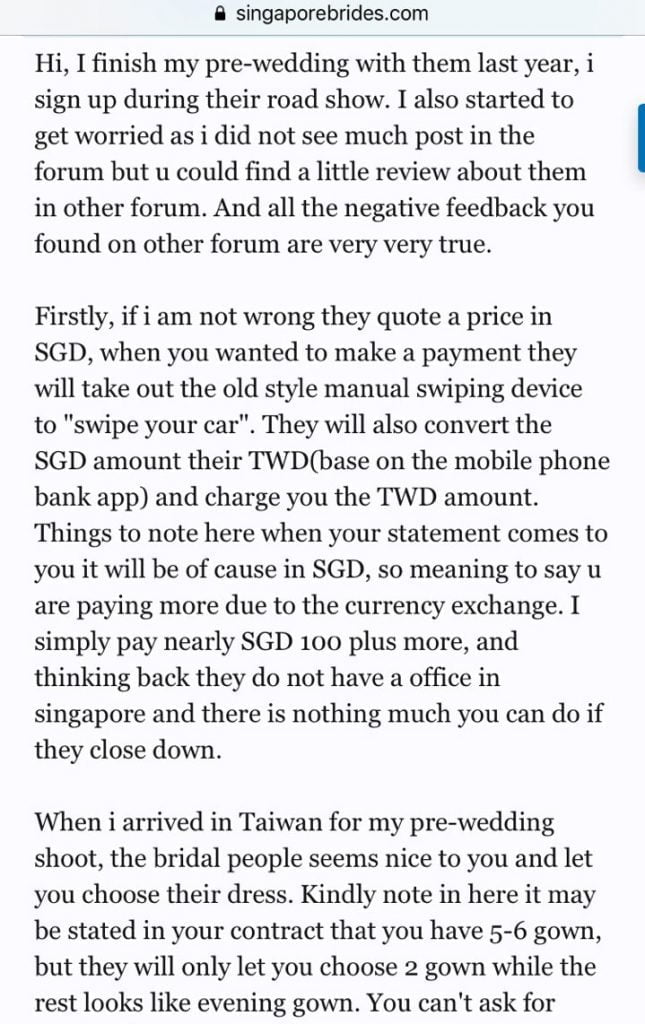 Want to have a pre-wedding photo-shoot and not have to worry about any of those legal issues?
You are in luck, at Dream Wedding Boutique we practice transparent pricing and package details and we have the most professional and experienced consultants to help you with all your needs and here is why.

1) Our main office is in Singapore!!

If you have any questions you might have, you can always come to us. We are just one call away! You can Whatsapp Us at 82998796 too! Contact us or make an appointment to clear any doubts you have.

The collection of Pre-Wedding items are also made simple and easy. Firstly, we offers all photos return, after your photoshoot when your photos are ready it will be send directly to you via email of all the digitally enhanced photos, you can view the photos at your own comfort!

Secondly, your Album and all Pre-Wedding items are available for collection at our bridal in Singapore! Don't have to worry anymore about the shipping fees or the trouble of lost shipments because it will be taken care by us!

2) We place great emphasis on quality control and we had expended to 8 major city around the world!

Singapore, Taiwan Taipei, New Zealand Queenstown, New Zealand Auckland, Europe Paris, Europe Prague, Europe Santorini, Europe London, Indonesia Bali, Thailand Phuket, Maldives and Australia Melbourne & Australia Sydney!

Along with each base in the different cities, we definitely have quality teams to assist you in your Destination Photoshoot as well!

We know that a lot of effort and planning was done to plan for a trip overseas for your Pre-Wedding Photoshoot.

We promise to entrust your Pre-Wedding photoshoot only to our very best team of photographers & make up artist.

3) We practice transparency thus all our package information are available online for couple to consider even before visiting us!

Everything that is inclusive will be clearly advised to you in advanced, such as in regards with items which you will need to prepare by yourself.

We think for our customer before they even face the issues themselves and all information will be given to you before you confirm our service.

This is why we have plenty of amazing customer experience reviews which we are so very thankful for!
Contact Us Here for your Destination Dream Wedding Photography!
Related Wedding Services