After getting all the way to Prague, you wouldn't want to spend your time there having typical staples you could get at home! So, look forward to a variety of local and traditional Czech food as you fully immerse in the city itself and relish in the authentic taste of Prague.
Prague does not only showcase a myriad of architectural wonders, the glorious city also serves up great classic Czech dishes that you wouldn't want to miss, which I will be feeding you along the way.
WARNING: Czech food is heavenly, hearty and addictive. But not to worry! You can always walk off those calories as you stroll down Prague Castle, Charles Bridge and many more iconic landmarks of Prague.
1. Beef Steak Tartare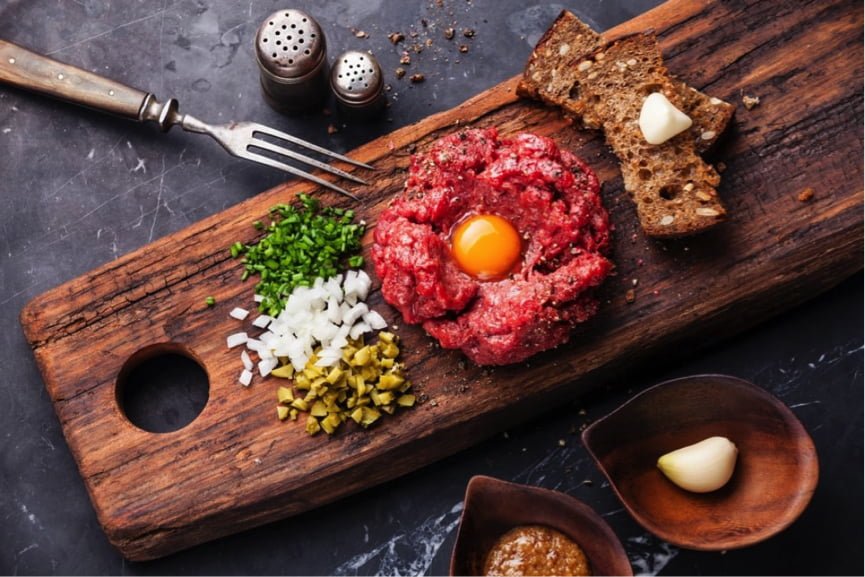 Main ingredients: RAW Beef. That's right, you didn't see it wrong!
But fear not! Once you have a bite of it, you will keep coming back for more and won't stop due to its deliciousness.
This classic Czech cuisine is made of raw beef that is cut, scraped or minced up, served with condiments and a raw egg on top. It is eaten with a slice of toast and a clove of garlic; the garlic is not meant to be eaten whole, instead is rubbed against the rough surface of the toast to help enhance the flavour profile. Afterwards, you spread a hearty amount of meat on the top of the toast for the perfect harmony of different textures and flavours. Complete the experience with a glass of freshly poured Pilsner and there you have it, the undisputed king of "snacks that go well with beer"!
2. Kulajda ("Ku-Lay-Da")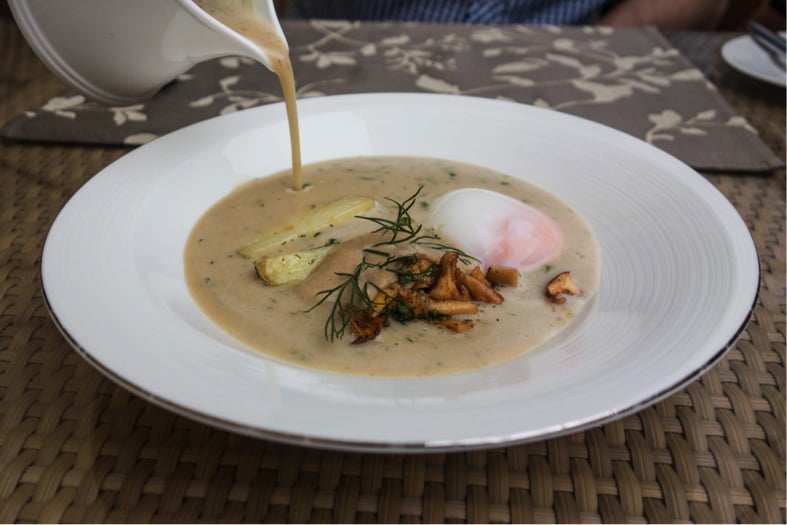 Soups play an important role in Czech cuisine. And if there is one traditional Czech soup that you shouldn't miss out, it will definitely be Kulajda.
Kulajdais a creamy potato soup with mushroom, dill, vinegar and a poached egg in it. The potato wedges are roasted, and the egg are cooked sous-vide style. When broken, the yolk oozes into the rich creamy potato soup and blends in with the strong flavour of forest mushrooms. A true symphony of flavours that is full-bodied and pleasing.
3. Svickova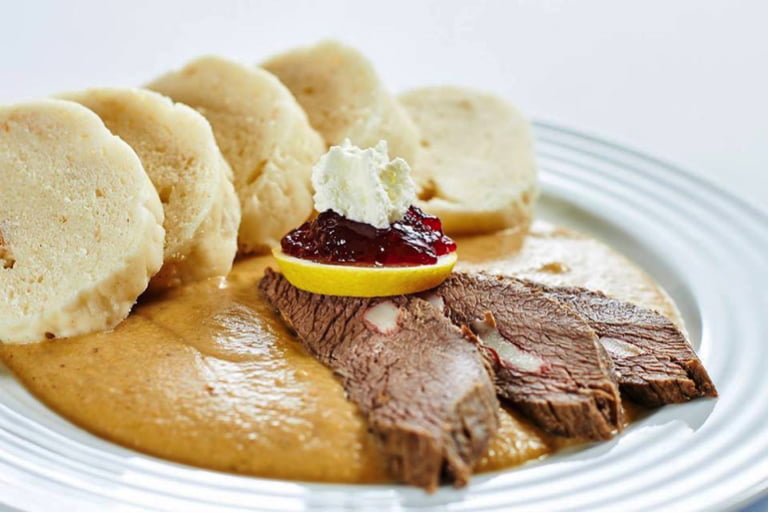 This is a Czech dish that is usually served at weddings or Sunday family lunches, which makes it a very intimate and exclusive affair that is closely tied to the family recipe.
The dish mainly involves a vegetable sauce with cream that contains carrots, celery and parsley roots, topped with a few slices of sirloin steak and bread dumplings. The variety of garnishes and proportions further adds on to the unique recipe of every household.
At restaurants, you can usually find Svickovatopped with a slice of lemon, cranberry compote and a shot of cream, making up a true staple of traditional Czech cuisine.
4. Schnitzel with Potato Salad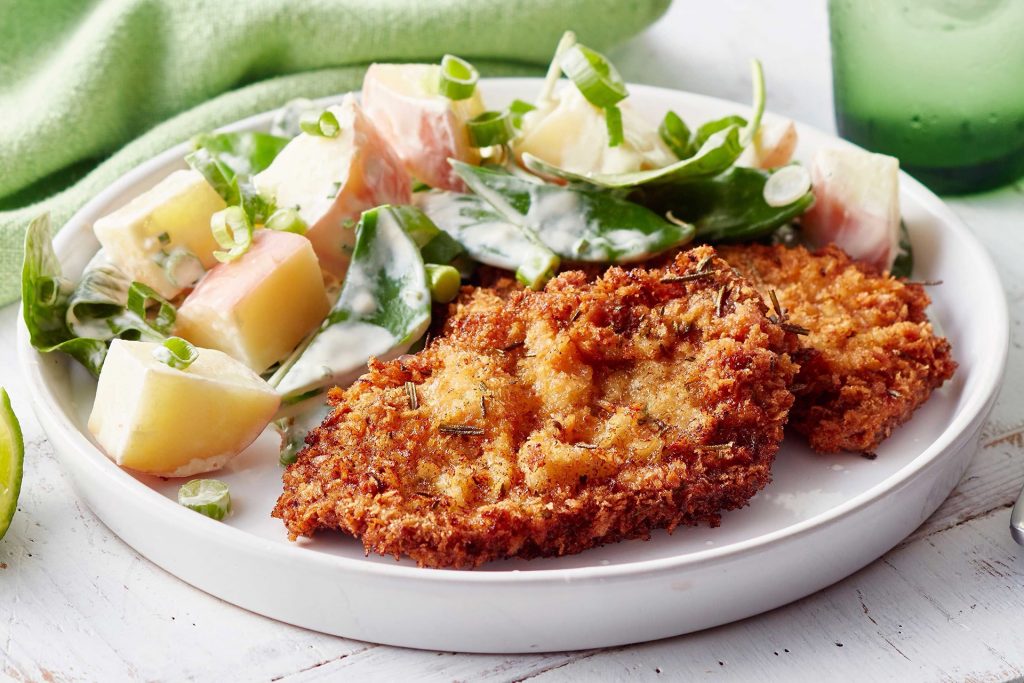 Traditional Czech food is influenced by Central European food, and the schnitzel is the perfect example where it exists in both Czech and German versions. Basically, the Czech schnitzel is a thin slice of tenderised meat, usually chicken or pork, that is breaded and fried, preferably in butter.
What's the perfect accompaniment? It will definitely be the potato salad, which is also known as the king of all sides. As for the traditional Czech version, it will be a mixture of potatoes, carrots, hard-boiled eggs, onions and pickles mixed with mayo, mustard, brine from the pickles, and lastly, a sprinkle of salt and pepper for the perfect taste!
WARNING: These schnitzels can be HIGHLY addictive, eat at your own risk!
5. Fried Cheese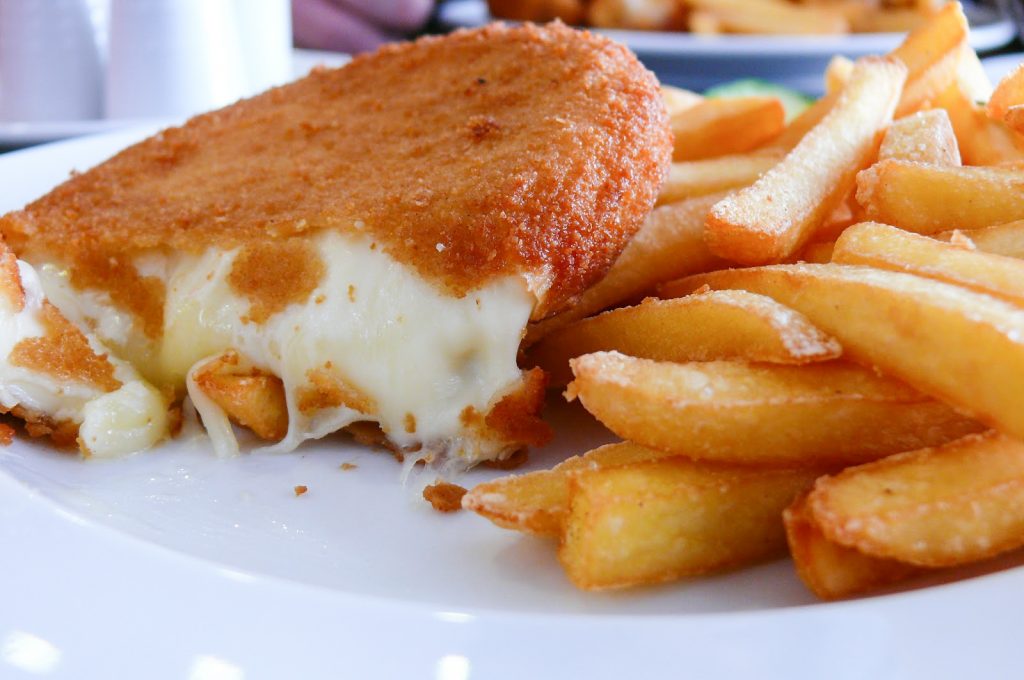 Basically, you can see the dilemma of vegetarians in the Czech Republic as the classic Czech vegetarian dish contains almost no vegetables, is fried and regardless the season, it is served all year round.
With that said, many Czechs would collectively agree that "fried cheese", which is a slice of fried, breaded cheese, is not only gooey, cheesy, rich but very comforting. An absolutely delicious piece of food that can never fail to satisfy!
Cheese + Fried, a combination that can never go wrong!
6. Fruit Dumplings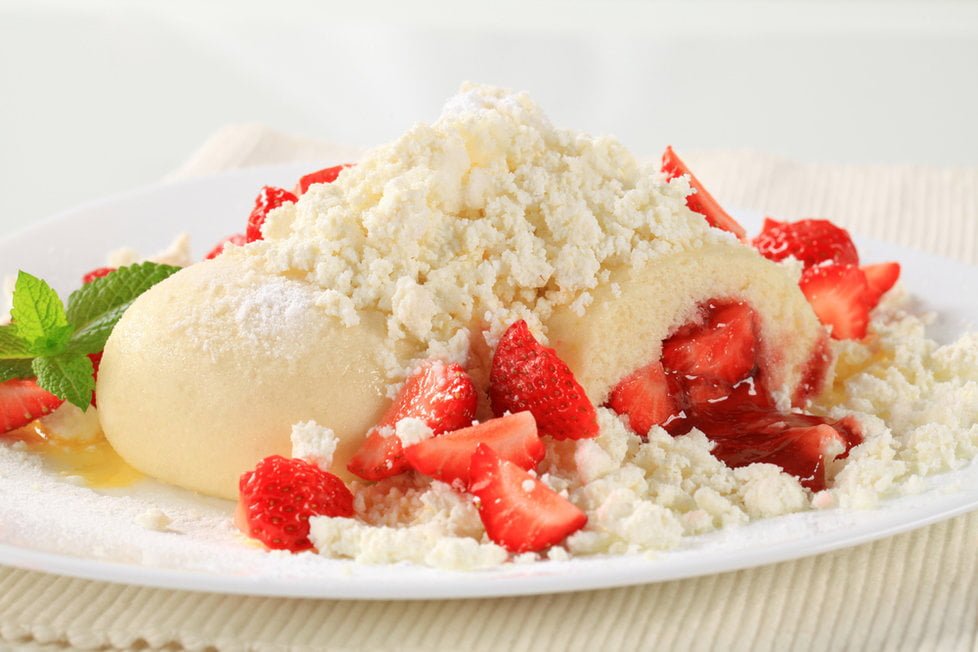 Traditional Czech cuisine incorporates a specific type of dish: a sweet main dish. It's something sizeable, warm and sweet that is not served as dessert but as the main dish, usually after soup or appetiser.
The fruit dumplings are the ultimate classic dish in this category. It is actually dumplings filled with fruit and served with melted butter, sugar and other sweet condiments.
7. Vetrnik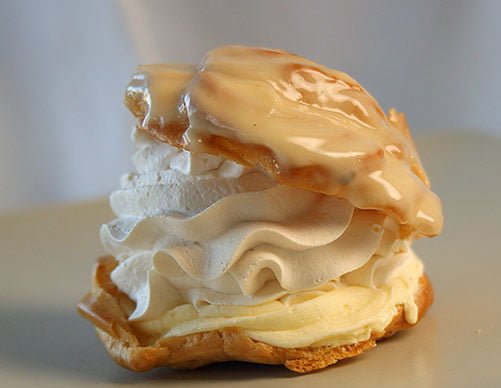 TheVetrnikis arguably one of the best pastries in Prague and holds a weak spot in the hearts of many Czech and foreigners. It is an incredibly rich and creamy choux pastry that seems very light at the beginning yet become very filling at the end.
Therefore, it is usually recommended to have the mini versions over the regular-sized vertniksas its sweet and creamy nature of the pastry can be very overwhelming. Nevertheless, it is still a delicious pastry that can't be replaced easily.
HIGHLY RECOMMENDED: Café Savoy's Vetrnik
8. Chlebicek
There is often a debate over whether Chlebicekis exclusively Czech, as one would be able to find similar dishes in Vienna and Denmark as well. Nonetheless, the Czechs' love for Chlebicekremains undeniable.
It is actually a slice of baguette-like bread or toast bread with a generous slab of savoury toppings, making it a jack of many trades due to the wide variety that can be prepared. It serves as fast food or finger food at house parties and is also served at social events such as theatre plays or senior proms in Prague. That is just how much the Czechs love it!
9. Kremrole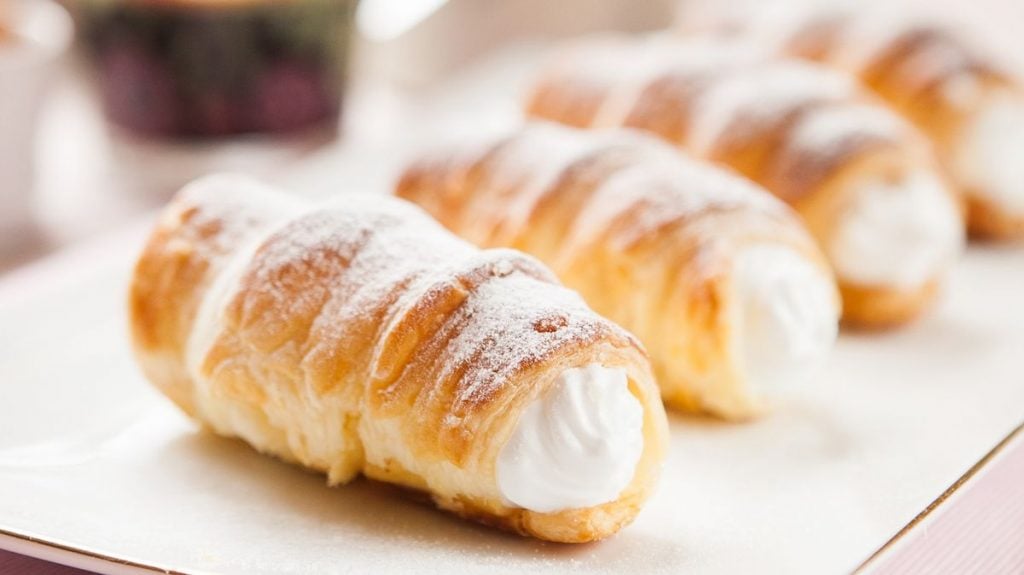 To most people, Czech can be a very hard language to master, but there are obviously harder Czech words than "kremrole". And so here you have, one of the most popular Czech pastries, which is basically cream in a roll. Kind of reminds you of cannoli, does it? Don't drool!
The roll is made of flaky pastry and the cream is a soft meringue cream, having the combination of the two (dusted with powdered sugar), it is definitely irresistible and finger licking good!
TIP: Get the best Kremrole at the Kulatak Farmers Market at the Dejvicka subway stop. How to identify them? It's the stall with the longest line!
10. Beer + Beer Snacks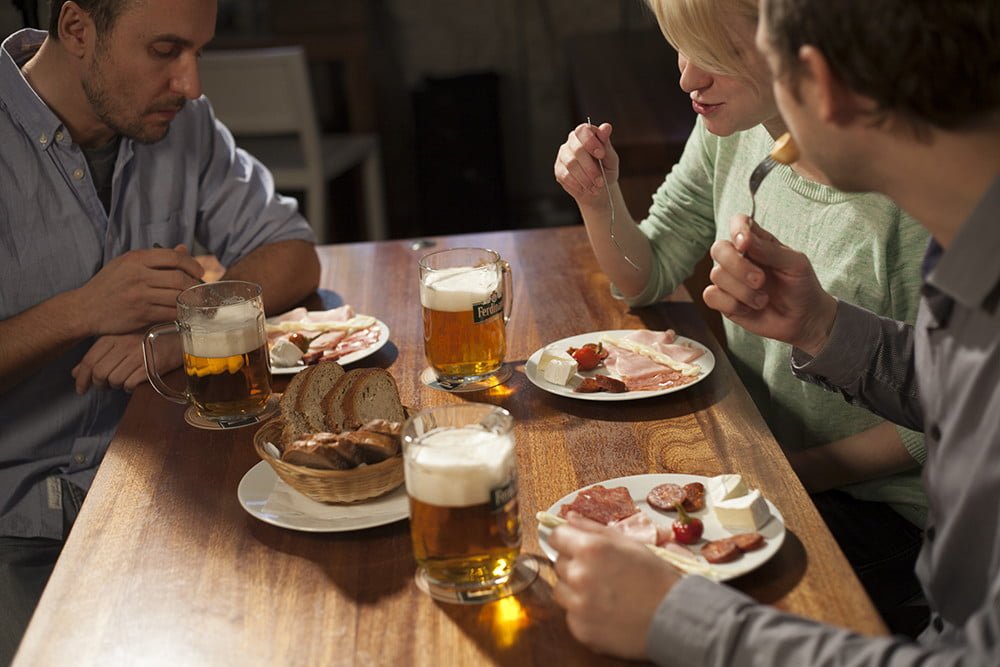 Beer is irreplaceable in Czech Republic, so of course, it makes the list without any arguments. In Czech, the food eaten with beer is specifically known as "Beer snacks" or "snacks that go well with beer". As you can see, the Czechs are serious when it comes to beer and the snacks served should match the unique taste of Czech beer and definitely not the other way round.
Beer snacks can be found in almost every pub in Prague, which often consists of meat and condiments. The classic will be Prague ham with horseradish cream, pickled sausage and any meat of the traditional pig killings in the winter such as blood sausages. Alternatively, vegetarians can go for the "pickled cheese", which is a really Camembert-style cheese marinated in oil with spices. And once again, ironically no vegetable is included in the vegetarian dish!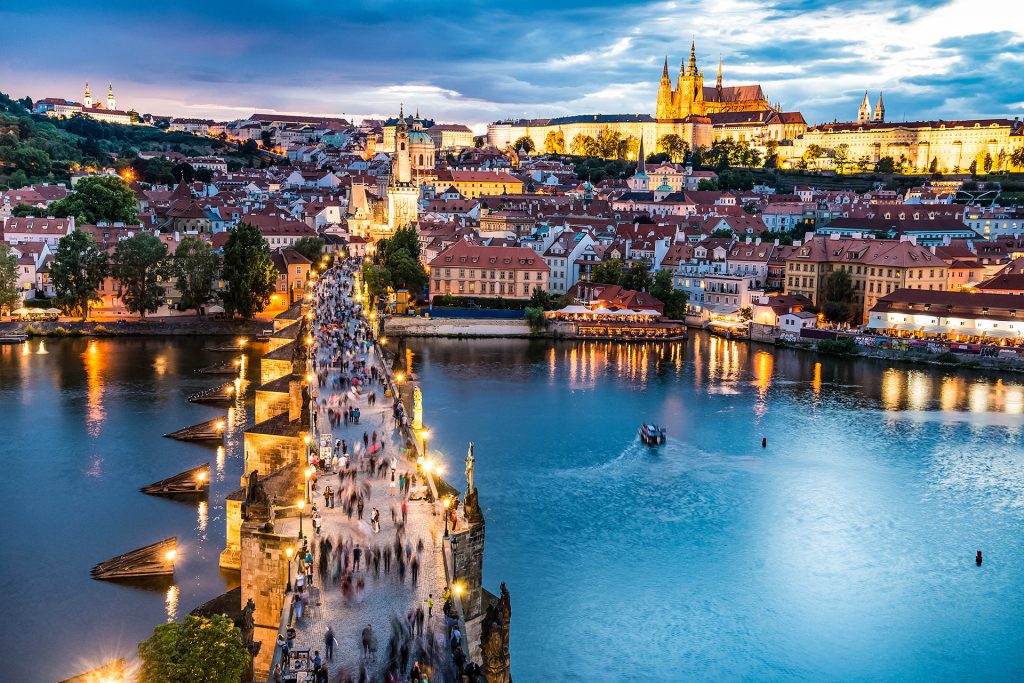 So this comes to the end of our must-try Czech food in Prague. Hope that you will give them a shot during your trip to Prague and fall in love with their food!
To je prozatím vše!
Related Post: Horror Wedding Story for Couple Destination Pre Wedding Photoshoot
Various Topics With Regards To Wedding & Travel in Prague
Related Post: FAQ About Overseas Pre Wedding Photoshoot
Related Post: 10 Things to look out for in Overseas Pre Wedding photoshoot
Contact Us Here for your Czech Republic – Prague Dream Wedding Enquiry!
Testimonial from our Past Overseas Pre Wedding Photoshoot Couple
Taiwan Pre Wedding Photoshoot Couple Review
Bali Pre Wedding Photoshoot Couple Review

Santorini Pre Wedding Photoshoot Couple Review

London Pre Wedding Photography Couple Review

Singapore Pre Wedding Photoshoot by a Japanese Couple Review

Be one of them Contact Us Here for your Destination Dream Wedding Photography!
Related Wedding Services
Be one of them Contact Us Here for your Destination Dream Wedding Photography!