How to Choose a Wedding Gown for Plus-Size Brides or pregnant brides
Shopping for a wedding gown is always a harrying experience. Whether you are shopping online or visiting bridal shops, trying to get the perfect wedding gown is a stressful period for brides to be. For plus-size brides, this experience can be especially difficult, as you would be worried, wondering if it would be possible to get what you want.
All shapes and sizes are beautiful, and there is a wedding gown for every kind of woman out there.
Choosing a wedding for a plus-size bride or pregnant bride can be a successful shopping experience as long as you keep in mind to get a dress that is comfortable and fits well, complements your figure, and shows off your personality.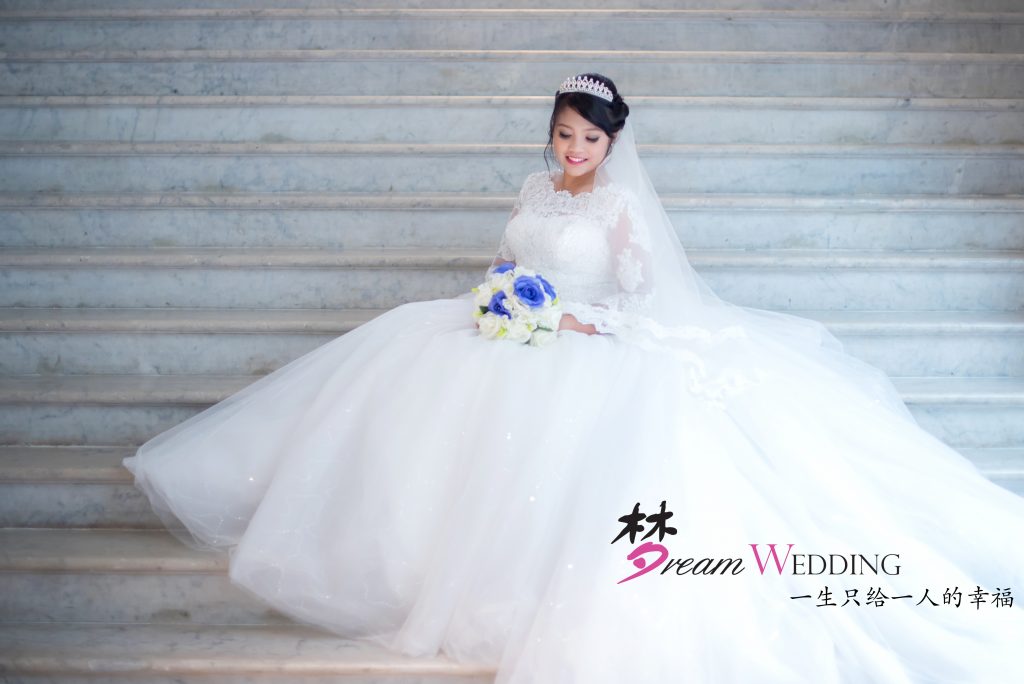 1. Get the Style Right
Style is the most important factor to consider when choosing a wedding gown for a plus-size bride or pregnant brides.
− A-line wedding gowns are very flattering on plus-size brides. With an empire waist, an A-line wedding gown provides the perfect silhouette for any plus-size bride. Dream Wedding Singapore has a lovely range of A-line, plus-size wedding gowns for rent, both made to measure and custom made dresses.
− Ruched wedding gowns are a great style for any bride-to-be, regardless of height or shape or size. For plus-size brides, ruched gowns, especially ones that are done in a particular style – like patterned asymmetrically on one side of a gown – give the gowns more structure and support, making you look flawlessly elegant.
− Halter necks, cap sleeves, off-shoulder sleeves, and thick straps are great styles to go for if you are a plus-size bride. They provide coverage and better support, while at the same time showing off those lovely assets that you want to put on display, such as your shoulders, back, and cleavage.
− Avoid going for gowns that are made of fabrics that do not transition well together. For example, wedding gowns that have a bodice in a different fabric, while the skirt is in a different fabric, tend to be unflattering on plus-size brides if the style doesn't flow well or transition well. Don't totally rule out these styles, though: you can pick dresses made of separate fabrics if the style flows seamlessly and fluidly.
2. Choose the Right Fabrics
The fabrics the wedding gowns are made of are also important when you are looking for a gown for plus-size brides. Fabrics like chiffon or silk tend to skim the body, revealing several details and looking very unflattering on your body. Fabrics like lace may get clingy, making you feel uncomfortable.
Pleats and heavily beaded fabrics are also unwise choices for a plus-size wedding gown. When choosing a wedding gown for a plus-size bride, go for fabrics such as taffeta, satin, and organza; even lace and silk work well with the write lingerie and hemline. These fabrics are very flattering for plus-size brides-to-be, and come in a wide range of styles and designs so that your choices won't be limited.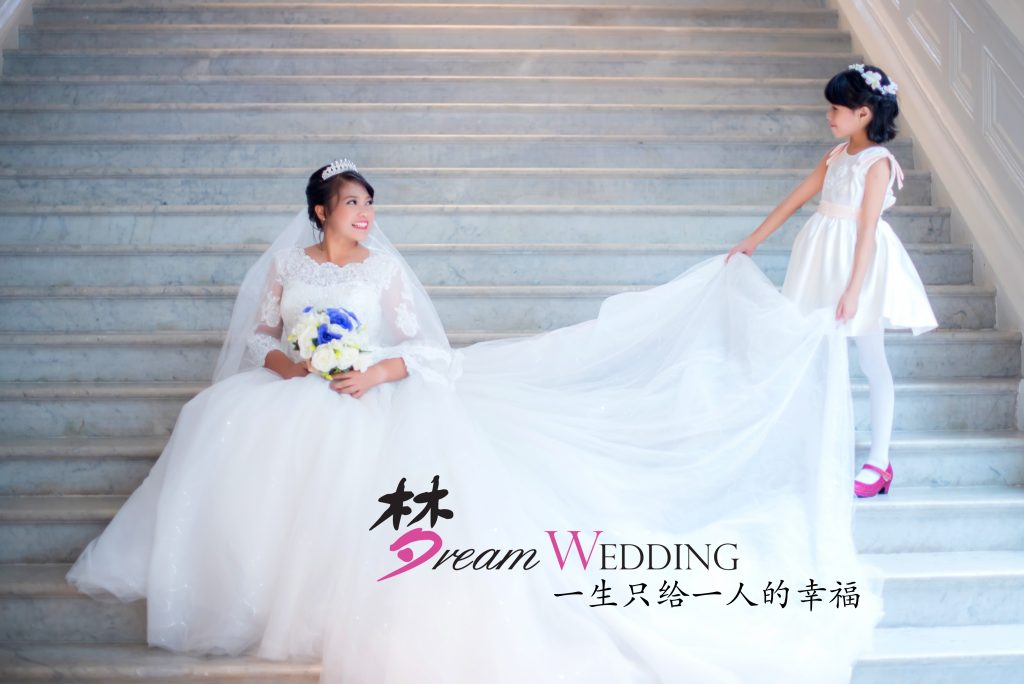 3. Comfort over Size
Choosing a wedding gown in a smaller size with the hope that you will fit in it by the time the wedding arrives is simply the wrong idea. Also, picking a wedding gown in a smaller size because it will look slimming will end up being a punishment for you as the plus-size bride.
Choose a wedding the gown that is comfortable, and fits perfectly. If you are not sure of what size to get, most bridal shops offer to check your size, and then show you selections of wedding gowns based on your size.
Get a wedding gown that moves well, that you can dance in and walk around in, and still fits you well, accentuating your curves. If it isn't a perfect fit, then there is no need to buy that gown.
4. Accentuate Your Shape
Curvy is beautiful, no matter the shape, size, or color, and curves need to be flaunted, especially on wedding days. A dropped waist, corseted bodice provides a very sexy shape for a plus-size bride. A dropped waist wedding gown can also have a mermaid silhouette, or a mermaid gown style, flattering your hips and giving you a lovely hourglass figure.
− For more shaping and bringing out that lovely plus-size figure, a plus-size bride should shop for the appropriate lingerie and underwear. Pick the right bras for the type of neckline or sleeves of the wedding gown. Try out shape wear to firm up and tuck in, giving you are more flawless look in your wedding gown. Make sure there are no panty lines showing through your wedding gown.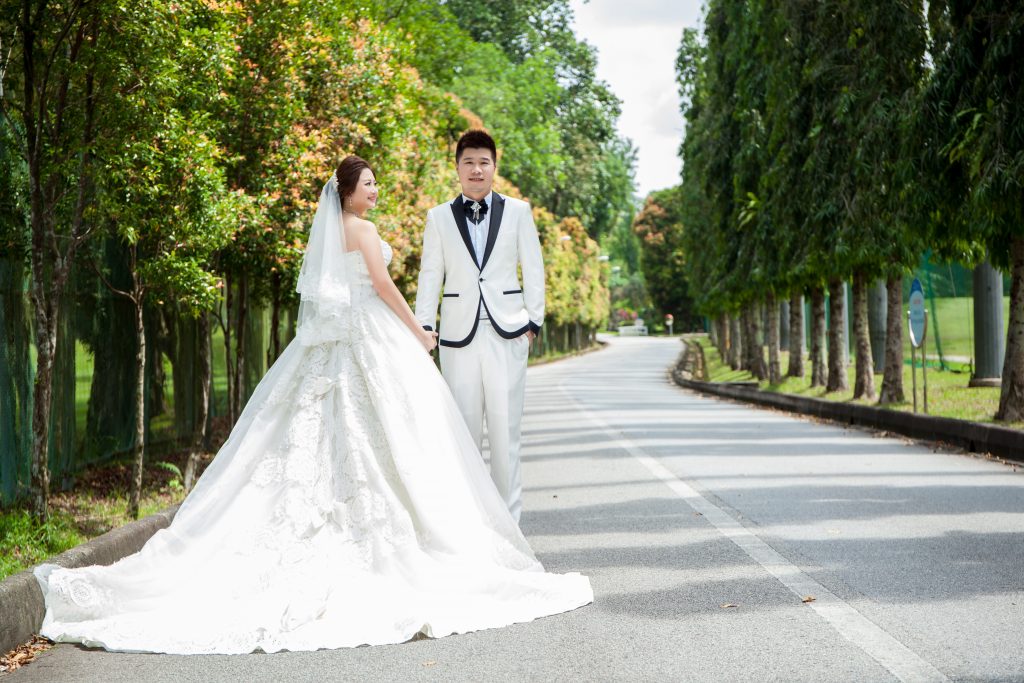 5. Choose Something that Reflects Who You Are
Choose a wedding gown that best represents you, that shows who you are, that is you. Go for that wedding gown that you have always wanted, that you just know will make you look and feel special on your day because you are special. Your personality should shine through in your wedding gown, as your wedding day is your day to stand out.
6. Get a Stylist
You can always get a stylist, who is a professional in wedding gowns for plus-size brides, to help you make the decision for what gown to pick. Stylists have a lot of knowledge from which to draw from, and once you have told them a little about yourself and what you want, they can help you to pick the perfect plus-size wedding gown for your perfect day. Bridals, such as Dream Wedding Singapore, even have in house stylists that can help you with this decision.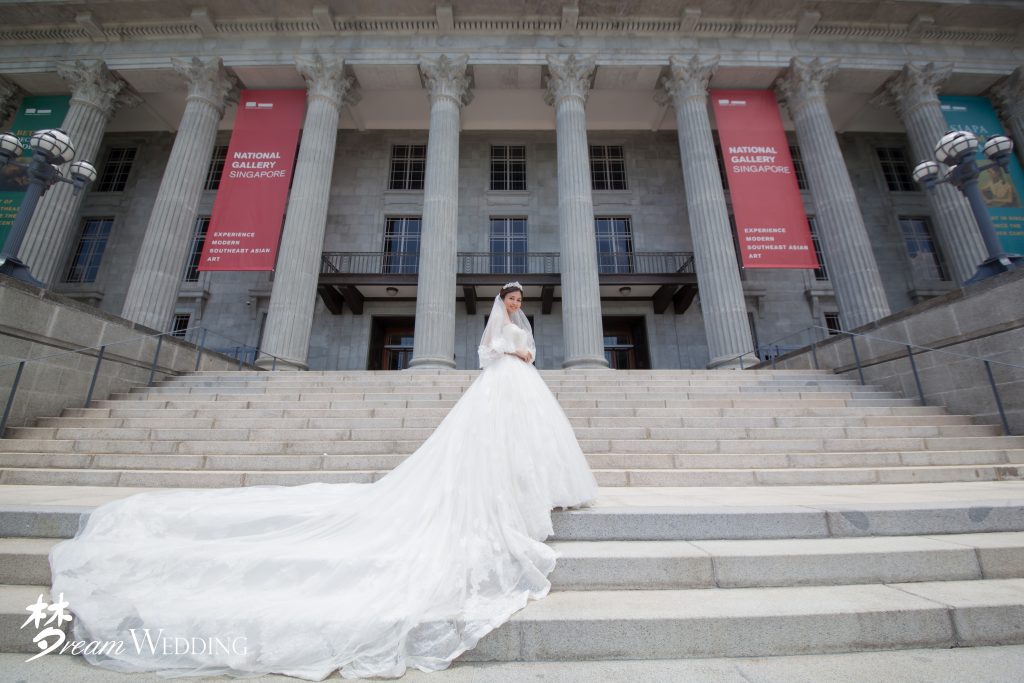 7. Go Shopping with the Right Company
Family members, best friends, your bridesmaids, and other colleagues and associates: these are people you can take with you when you go to choose a wedding gown for a plus-size bride. They are people who know you, and who may be in a good position to help you pick something that reflects your personality, that is stylish, comfortable, and is a perfect fit.
However, always find the right company that really want the best of you instead of them choosing based on their own preferences.
See what our past couple have to say here.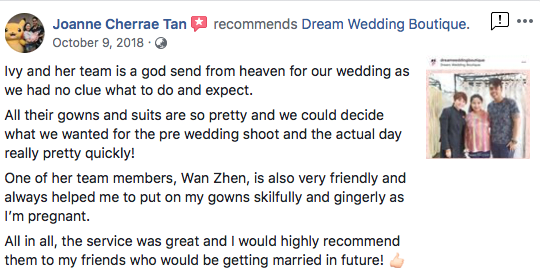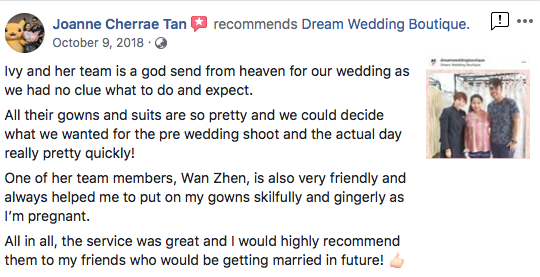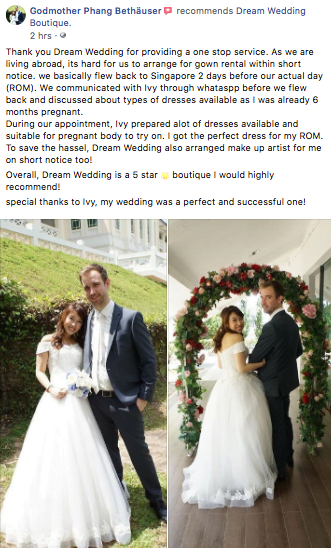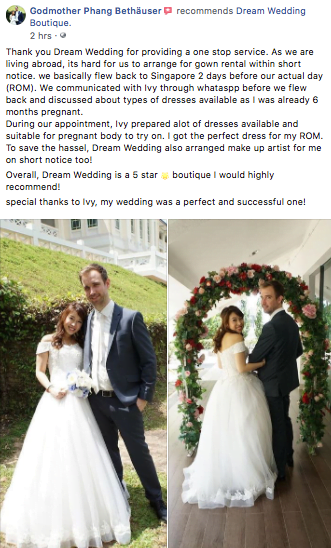 Contact Us Here for any questions to choosing your plus size wedding gown!
Be one of them Contact Us Here for your Dream Wedding!
Related Wedding Services