Get Bonus Credit for your Wedding Usage!
No sure which country to go to for your wedding photoshoot? You are also Not Sure on which wedding gown designs will look most stunning on you?
We know the concern and worries of Brides-To-Be and Grooms-To-Be, hence we are proud to introduce the 1st and only 1, Wedding Credit Promotion (Promotion ends on 2 Aug 2015)
We know the inflation is getting worse and worse, the banquet is getting more and more expensive. Here are the way we can help you for your wedding planning. Pay less for MORE!
In this promotion, you will receive additional $200 credits when you only pay for $300.
That means you will have a total of 

$500

 Credit.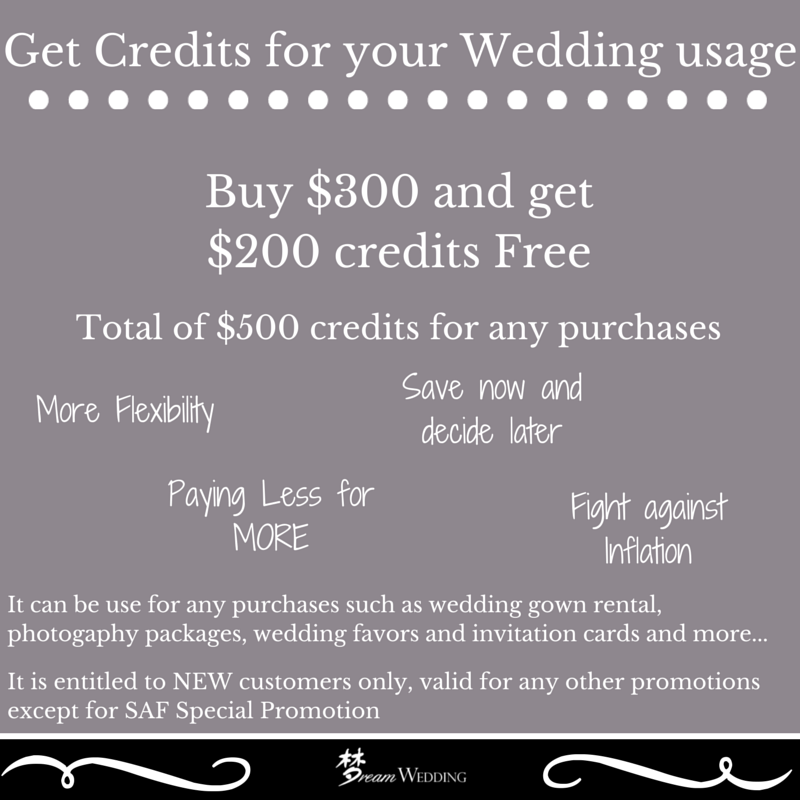 This amount is valid for any purchases and promotions with us.
Eg. Gown Rental: ($1380) – Credit available: ($500) = Payment ($880)
There is no worry on what if you change your mind, what if you prefer other locations for your photoshoot after your confirmation. You have the full flexibility on what items you wish to purchase and when to use it.
Purchase the credit now to fight against the inflation, you can enjoy the saving now and use the future collections of gowns.
Please present this voucher before checkout. Promotion meant to benefit our online couple:) Cheers!
Plan ahead and Save!
Contact Us Here for Your Dream Wedding Enquiry!
[contact-form-7 id="7610″ title="Contact form 1_CreditPromo30july15″]