5 Last Min Tips that will totally save your Wedding Day from all the mess
It is always better to be save than sorry! It is perhaps the most adapt description for your once in a life time wedding preparations. You can hope and pray that mishap will never happen to you or to your event but it is always good to have some preparations.
1. Create a checklist of the items needed for wedding day
Not wanting anything to be missed out during your wedding day.
You will need to Prepare a Checklist to prevent from forgetting anything important needed.
Segment it into 3 separate list, morning (Gate Crashing potion), Groom items and Wedding Lunch / Dinner Checklist.
Remember to hand it over to your Wedding Planner or Maid Of Honor.
2. Worrying about not having entertainment in-between your reception transition and you do not want to spend money on bands or entertainer?
String your pre wedding photos together in a long loop and use the venue/ hotel/ restaurant music background music. It will keep your guest extertained while saving money on entertainement too. (You may even play live feed of instagram with their well wishes just by setting up an account)
3. Guests list checking
Have a friend to Double check with the guests invited (3 to 5 days before your wedding) to see if there are any guest whom suddenly decided not to come, as you definitely wouldn't want to pay for an empty table or half filled table. By doing so, it act as a reminder and you will have abit more time to reschedule the table arrangement.
4. Practice walking in gown and heels (Slow & Steady)
For brides who are intending to wear killer heels for your Dream Wedding Gown (It can be a-line gowns or mermaid evening gowns). Practice more on walking with small steps as you wouldn't want to have a fall during your march in to the ballroom stage!
By practicing, it will also allow you to break into the shoes early. This is in preparation for your special day!
5. Keep your work out light before the wedding
For brides whom like to exercise and keep fit. We understand you will want to look your best by maintaining your figure, but the last thing that you don't want is to wind up pulling a muscle or because due to fall, you will have got a huge scab on your arms. It will definitely not be picture perfect for your Dream Wedding.
Always Exercise with Cautions!
[one_half]
Related Post: FAQ About Overseas Pre Wedding Photoshoot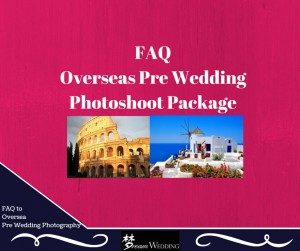 [/one_half]
[one_half_last]
Related Post: 10 Things to look out for in Overseas Pre Wedding photoshoot
Contact Us Here for your Dream Wedding Enquiry!
[contact-form-7 id="7312″ title="Contact form 1_5 Last Min Tips that will totally save your Wedding Day from all the mess"]