Professional Certified Wedding Planning Course
Wedding is a couple once in a lifetime event. No reasonable wedding couple will risk their Dream Wedding to any wedding planner that say that they can help you to plan their wedding.
A wedding planning process may go wrong in a thousand ways and there will be many situations that will require someone experienced to handle the situations.
This process requires meticulous, seamless and experiences planner to assist them in their only Dream Wedding.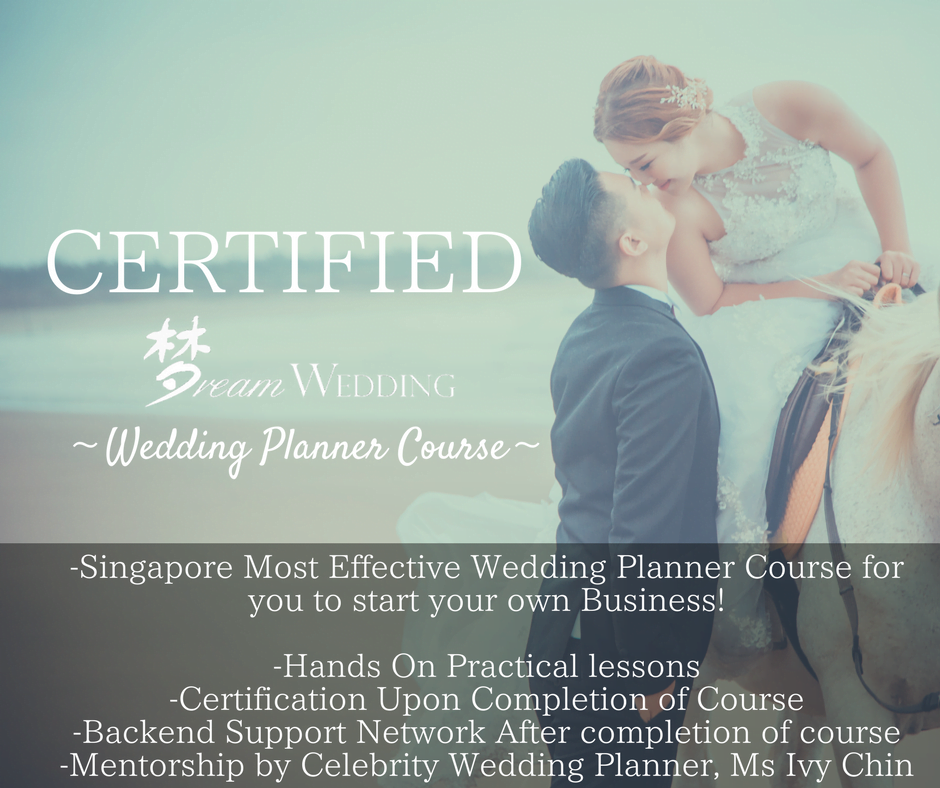 What Type of Professional Wedding Planner will you want to be?
Do you want to be a professional wedding planner that creates a beautiful Dream Wedding for your lovely couple?
To be able to handle their various situations ranging from preparations to actual day coordination with ability to handle wardrobe emergency?
Let Our Professional Chief Wedding Planner, Ms Ivy Chin, to Guide you!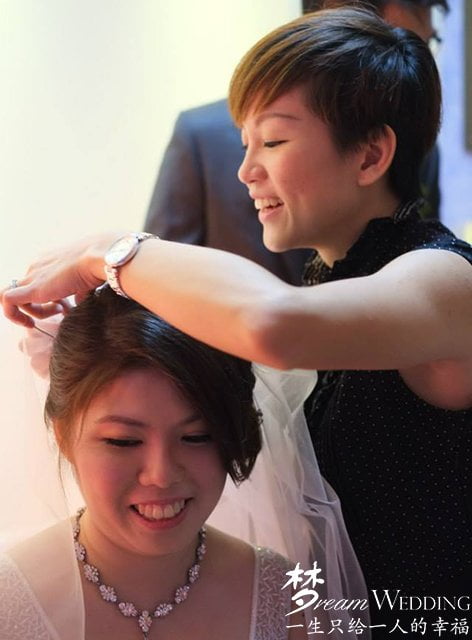 After 9 years in the Wedding Business, Our Celebrity Wedding Planner, Ms Ivy Chin, are here to share the Secret to Building your Own Wedding Planner Business!
We promise you that this will be Singapore Most Effective & Practical Wedding Planner Course for you to start your own Business.

Who is suitable to join in the course? 
1) Are you looking to make a impact in someone once in a lifetime event but you have no ideal how to start?
2) You love to see the satisfactions of being able to help wedding couples in their Dream Wedding. The smile on their face is really something that you will never forget:) As we can never forget in our whole life too!
Now is the chance for you to learn the knowledge and practical ways to start your own wedding planning business with resources to help your couple Dream Wedding come true!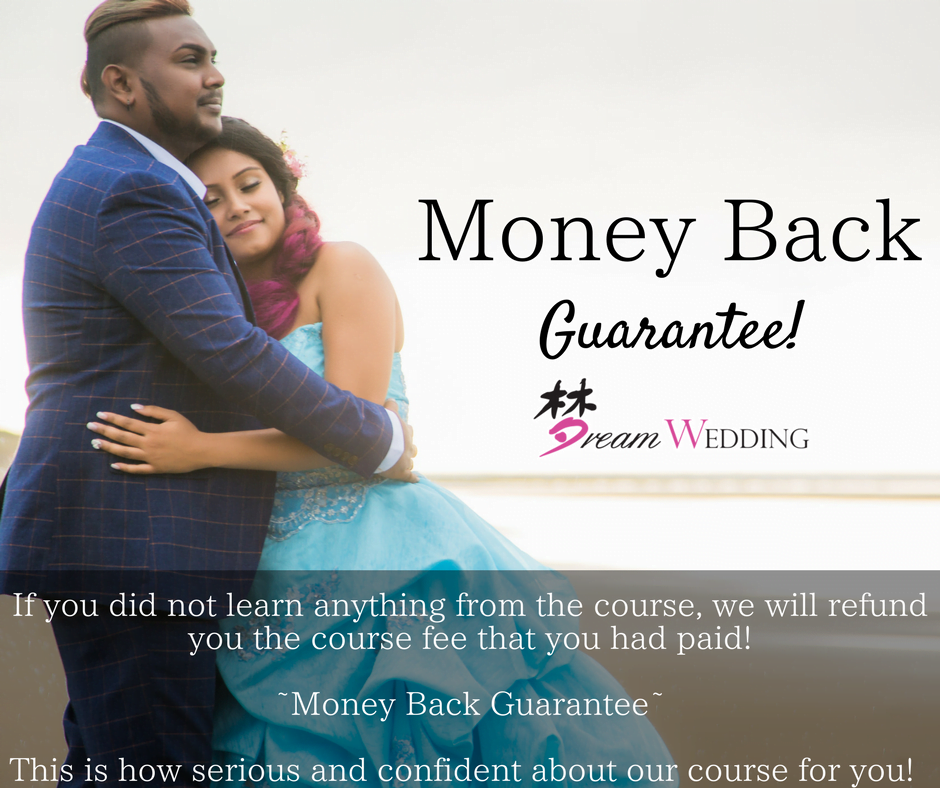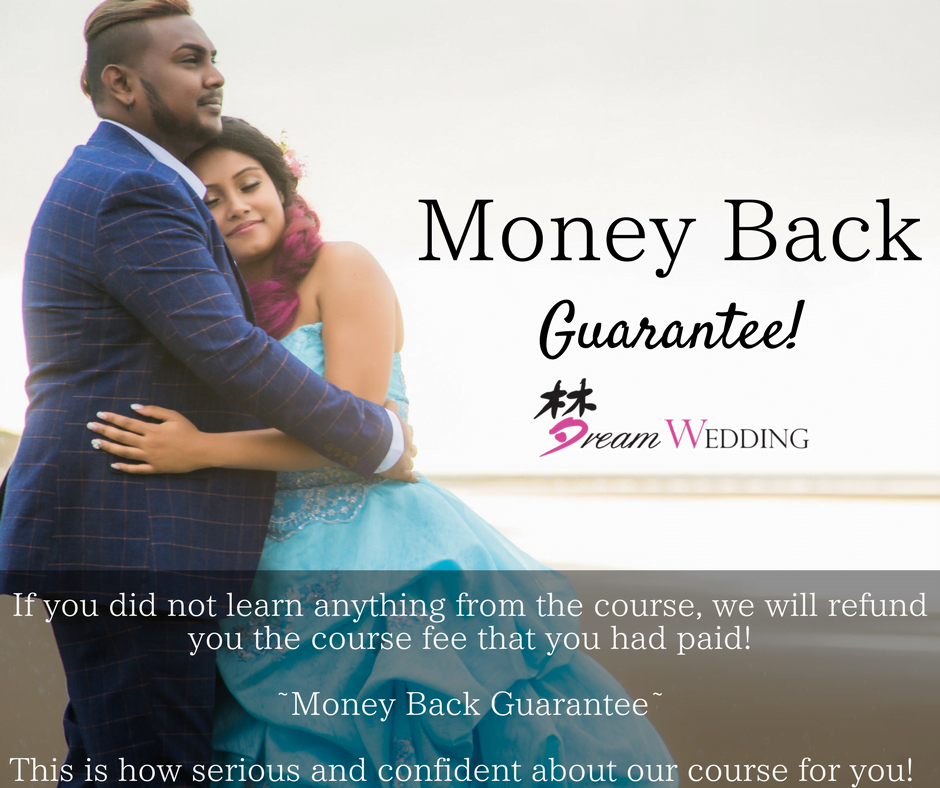 Lesson Guideline
-Hands On Practical lessons
-From Traditional Culture, Gowns to Website Development
-Certification Upon Completion of Course
-Backend Support Network After completion of course
-Upon Graduation, You will get to work with Real Customers
-Mentorship by Celebrity Wedding Planner, Miss Ivy Chin

10 Lessons of 2.5 Hours
+
30 Hours of Practical Experience & Customer Interactions

More About Ivy Chin, Chief Wedding Planner of Dream Wedding
Ms Ivy Chin had helped over thousands of couple in their wedding and her expertise is beyond compared in the wedding industry.
Review from Past Couple:⭐⭐⭐⭐⭐
"Ivy was very professional and has an eye for detail." Ms Jillian
"Ivy and her team are very experienced, highly professional, helpful and friendly" Mr Rex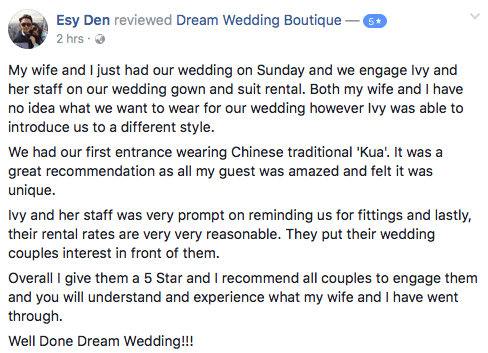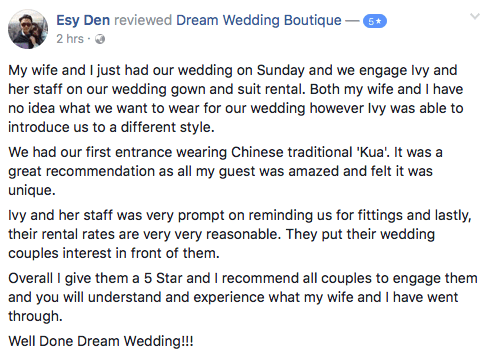 Course Fee
$6000 Nett for The Overall Course Fee and Free Refresher Course for next 3 years. So you can come back and refresh your module that you want to go through again as each year, there will be new trends being shared in class!
0% Interest Monthly Instalment Plan Available.
We assured you that this course is helpful to you!
<Money Back Guarantee if you did not learn anything from the course>
Dream Wedding Scholarship up to $3000.
Dream Wedding offers scholarship of up to $3000 through an Earn & Learn program which successful applicants will have the scholarship amount deducted from the course fee straight away.
For this scholarship application, applicants will have to go through an interview.
Upon successful application, applicants will be able to pay lesser to go through the course and learn a wider range of wedding program separately from the main course.
See what our students say from attending the course
Contact Us or Whatapps 82998796 for sign up and enquiry.
Grab your seats now as you learn from the best in the wedding industry to start building your own business. Your chance to help future customer and see them thanking you for your wedding planning services is here!
Upcoming Intake for 2020 is Open!