Bali & Singapore Pre Wedding Photoshoot Sample
Going to Bali or Staying In Singapore for Couple Pre Wedding Photoshoot?
We are pleased to be offering our Romantic Indonesia Bali Pre Wedding Photography Package & Local Singapore Pre Wedding Photoshoot package for Couple whom like to have their beautiful Dream Wedding Photoshoot taken.
We will have a team of 4 service crew to service you for your pre wedding photoshoot process.
It will consists of our Professional Photographer, Talented Bridal Make Up Artist, Bilingual Translator and Driver with vehicle for your photoshoot.
With our numerous trip to Bali and an Expert In Wedding Photography, we will let our wedding Photoshoot Expert show you a unique yet beautiful side of Bali for your life time memory.
Trip Planning Process
We will do a preliminary advice on the various potential area of photoshoot and seek your preference for area. From here, we will plan a route for your pre wedding photoshoot itinerary.
You can simply relax as our overseas photoshoot expert take over the work and guide you throughout the whole process.
Package Rate
For Dream Wedding Boutique Package rate, it will be at $XXXX Nett for our Bali Pre Wedding Package while it will be at $XXXX Nett for Singapore Pre Wedding Package. It will be consisting of transport for Photoshoot day, Crew Airticket & accommodation and many more. You can simply be assured that there will not be any hidden cost in the package.
Wedding Gowns and Suits will be provided for your Bali Pre Wedding Photoshoot by our Largest Wedding Gown Collection bridal in Singapore.
Changes of Make up, Hairdo are also provided for your PreWedding Photoshoot by our Professional Bridal Make Up Artist for the Whole Day. (Ampule & Fake lashes will be inclusive too)
Photoshoot is usually a scary things to think about especially pre wedding photoshoot. Do rest assured that our friendly Wedding Photographer will guide you through this new & exciting process to be a Star For The Day!
Don't worry about miscellaneous yet important element such as props for your Photoshoot. We had them prepared for you too:) Should you have any special request for your shoot, let us know and we will find them for you!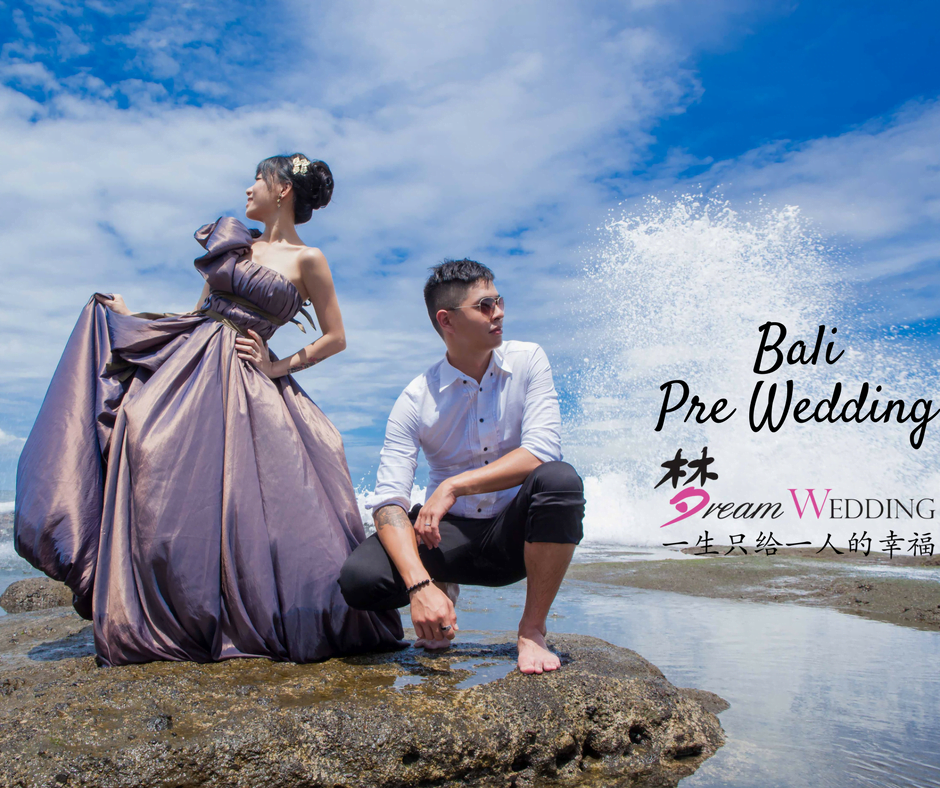 Dream Wedding Boutique Bridal offers you the widest Range of Gown Collections for you to choose from for your Dream Wedding Bali Pre Wedding Photoshoot.
We are here to offer the Best Wedding Services during your visit and also to enhance your overall experience with our one stop Wedding Hub Services within our Bridal.
Many brides are concern with finding their perfect wedding gown. Thus with our wide range of wedding gowns, we are sure that you will be able to to find your Dream Wedding Gown in our Bridal.
Read our Past Couple Testimonial Here or From Our Facebook Page.