Photo Editing Process
Congratulations to your Pre Wedding Photoshoot Process! We are pleased to be presenting you the Photos after editing!
For us to better facilities you in the whole editing process, you can simply follow these 4 simple steps:
Step 1
See through all the photos that require editing and put them into a Power Point slides.
Step 2
Tell us which are the area which require adjustment. Simply circle the area and write the remark down.
There will be 2 examples for you to see here:
Example 1: Slimming of the tummy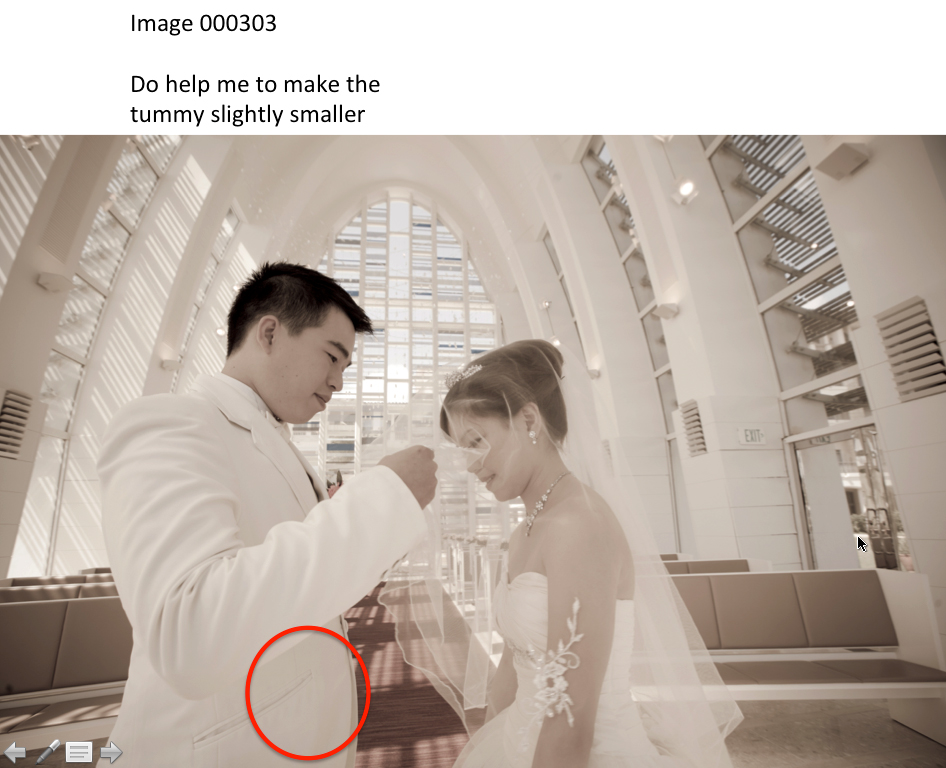 Example 2: Slimming of the Arms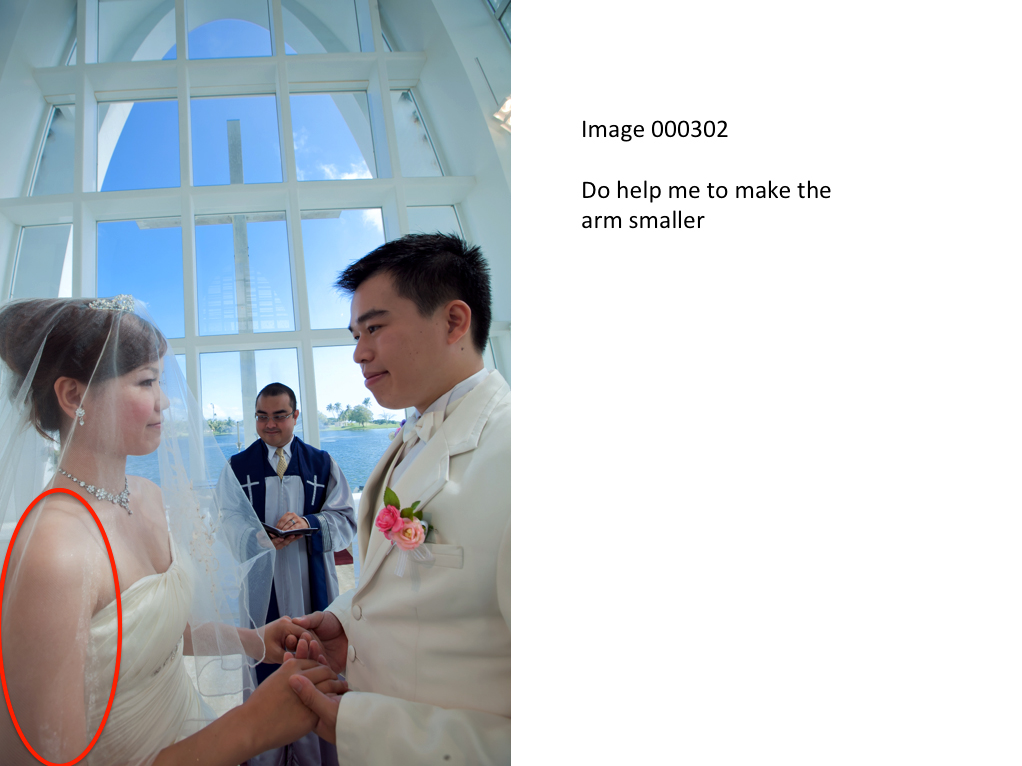 Steps 3
Reduce file size as "best for email".
Steps 4
Send it over to us via email. Simplest Process of all:)
Once received, we will proceed to do the adjustment of the photos. (Averagely 4 weeks of lead-time)
FAQ
Questions: "When will the album layout be done for me to see?"
Answer: The album layout will only be done after all individual photos editing is done so as to be sure that each photo will look great in the album.
Questions: "Can I adjust the wrist bracelet to be removed from all photos?"
Answer: The wrist bracelet cannot be removed in this process as it will make the photos unnatural and also this process is basically only adjust to the facial / body part slimming area whereas exterior adding in of items and removal of items, we will be unable to do so.
Questions: "If my eyes are closed, can you please adjust my eyes to open bigger?"
Answer: I am sorry that we were unable to process your eyes to be bigger if your eyes is closed just like if your shirt is crumpled or shoe is dirty, we were unable to straighten it or clean up your shoe in this process. This will be to make sure that the process are more natural in your final layout.
Questions: "Can I change background items?"
Answer: We will be unable to amend much on the background items as it will make the overall picture look unnatural.
Any Other Questions
Do kindly WhatsApp us at 66048013 or
Contact Us Here for your Dream Wedding Journey!
We look forward to be assisting you with your Dream Wedding photo editing process! Cheers!