Dream Wedding Bridal emphasis practicability and simplify process for busy executive like you in all our service area.
Let us introduce you to our practical and high quality gown tailoring process for all our couple.
Our Wedding Gown Service Standards are really as Simple as 1 2 3.
In just 3 Easy Steps via 3 different visits, the whole process is complete.
One Of the Most Comprehensive and Effective Gown Service in Singapore. No more coming to and fro many time for just the gown fitting or alterations. We had them all covered for you.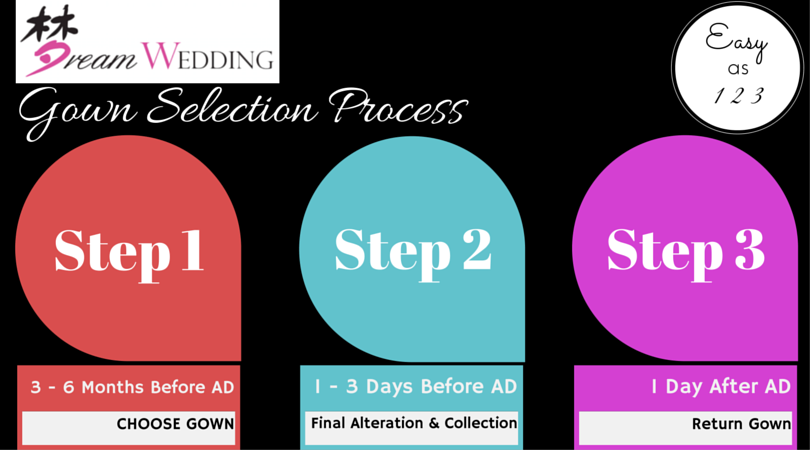 Step 1 – Gown Selections:
As we have New Wedding Gown Collections coming in every month, we will recommend couple to visit us 3 – 6 Months prior to their Actual Wedding Day.
With this buffer period, you will be able to booked the wedding gown of your choice and also to have a peace of mind that your Wedding Gown is selected.
This period is most recommended as you can be rest assured of an important element of your wedding while you can place your attention on other area of Wedding Planning during this crucial period as the time draw nearer.

Step 2 – Final Alteration & Collections:
We promise the finest alteration of the wedding gown to fit your silhouette. This will only be achievable when we alter it on the spot just 1 – 3 Days prior to your Actual Wedding Day!
With our professional onsite seamstress or sometime Gown Designer themselves, we will do the perfect alterations based on your current figure and fit the gown to you. You must look greater because the gown fits you perfectly!
After the alterations, you will simply collect the wedding gowns with all the accessories in our specially designed gown bag so you will not have to make the trip down again. This allows you to save time and effort on our part so you can rest more and prepare for your upcoming Big Day!
Wedding Tips:
With the immerse experience from our professional seamstress and designer, they advice all couple to ask for nothing less than onsite alterations within a period of 7days prior to their Actual Day Wedding.
Due to increasing stress and usually sleepless night when the Actual Day draw near, brides have a tendency to gain or loss around 2 inches of waistline in the final month of planning.
This 2 inches is good enough to let your brides wedding gown fall off her body during the wedding. (A very dangerous practice that you must be very cautious about!)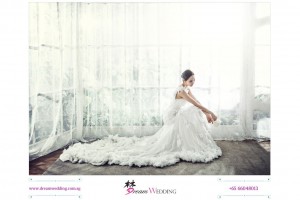 Step 3 – Return Gown:
1 Day after your wedding day, just come over to our bridal outlet and return us all the loans items. As simple as that!
As Singapore Largest Collection of Wedding Gown Bridal, we believe that we will have to deliver the best service and convenience to our couple at the best of our capability.
We look forward to be seeing you soon for your Dream Wedding!