Referral Reward to BKK OR BALI
A Free Trip to BKK Or Bali From Dream Wedding!
(Click Here if it does not load Properly)
Thank you so much for having us to be part of your Special Day!
For us to better reward you for your constant referrals, we will be offering you and your partner A Free Trip which consists of
A Pair of Air Tickets & 2 Night Accommodations!
Besides This, Your Friends will have better perks from our Normal Package too!
Everyone Wins!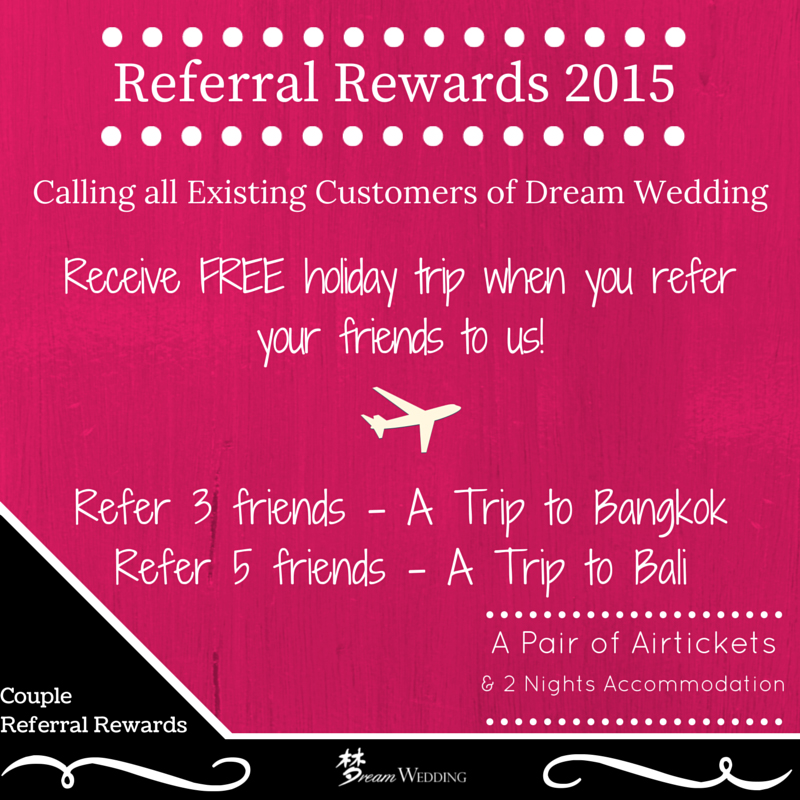 Simply Refer Your Friends to Us
Refer 3 Friends to enjoy a trip to Bangkok (Thailand) or 5 Friends to enjoy a trip to Bali (Indonesia)!*
*Referred Friends Signed for any services above $1380 will be counted as 1 couple under your name.
Current Referral Program will be from Now till 31Dec 2015. 
Trip can be redeem from Now till 30 June 2016 once qualified. 
Simply inform us your desired Travelling Date with 2 month notice for us to make appropriate arrangement
After every Successful Referral of your Friends whom Signed up with us, we will update you with an email and you will see yourselves closer to the relaxing trip for the 2 of you!
Read Our FAQ Below!
You may also Contact Us Here for Any Questions You May Have!
Looking forward to be seeing you soon to hand you a Pair Of Air Tickets & Trip Itinerary for a relaxing Holiday! Cheers!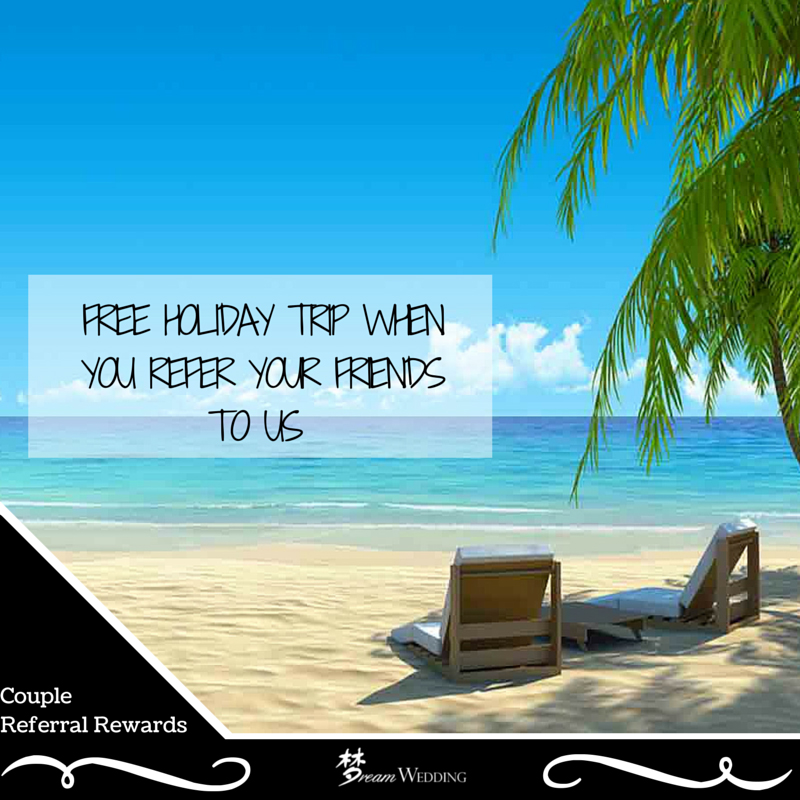 FAQ About this Referral Reward
1) If a couple have 5 friends (Existing Couples) whom recommend them over to Dream Wedding, which friend will get this referral deal?
Ans: The First Name that your friend informed us with regards to whom refer them to us, we will take it to account and count it to the existing couple account:)
2) Who do you referred to as Existing Couple?
Ans) Any couple whom have Dream Wedding, Wedding Emporium or Dream Wedding Signature Invoices. It can be couple whom have utilised it already or couple whom have not utilised the invoices yet.
3) What is the period I can accumulate the Referral Couple for the Free Trip?
Ans) You can referral your friends to us from now till 31 Dec 2015. Any Signed up (with purchase amount more than $1380Nett) within this period will be qualified:)
4) When must we used this Free Trip after I accumulate it?
Ans) You can use this Free Trip anytime from now till 30 June 2016. Just keep us informed 2 months before your trip so we can arrange for all the necessary arrangement such as your Air Ticket & Accommodation Stay:)
5) Can I pass the free ticket to another person?
Ans) We are sorry that we are unable to transfer your ticket to another friends as this was meant for the both of you to relax! A privilege that we hope it stays within our Dream Wedding couples.
6) Will Dream Wedding contact me for every successful referral of friends over?
Ans) Yes, we will inform for every successful referral deal signed to you so you can keep track while we will also have a record for you too:)
7) Are there any recommended methods on how can we start referring friends to you?
Ans) There are a lot of ways but being genuine is key to everything. Just like how we service you:)
We will like to share one method from our past couple sharing.
Write a review on us and share with your Friends!
Ask around if there are any friends who are looking for Wedding Bridal or Services
Recommend us to your friends and let them know that they will have better perks while also sharing your genuine experiences in our bridal to them:)
Pass our contact to them or simply let us know so we can contact them for an appointment:)
6) If I referred over 5 friends Successfully, does it mean I can have both trip?
Ans) I am sorry that it is for 1 Trip Only. For 5 friends, it will be Bali trip but if you want BKK trip instead, it can be arranged for you too:)
Last Note: Dream Wedding Reserve all rights to this referral program.
[one_half]
Related Post: FAQ About Overseas Pre Wedding Photoshoot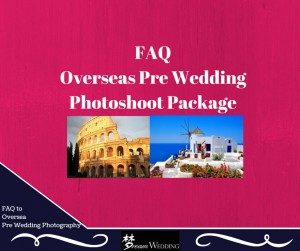 [/one_half]
[one_half_last]
Related Post: 10 Things to look out for in Overseas Pre Wedding photoshoot
Contact Us Here for your Dream Wedding Enquiry!
[contact-form-7 id="7281″ title="Contact form 1_Referral Rewards 2015″]